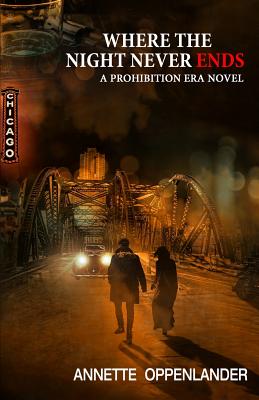 Where the Night Never Ends
A Prohibition Era Novel
Paperback

* Individual store prices may vary.
Description
A chance encounter between a penniless young woman in search of her missing brother and a hobo burdened with a big secret takes both on a journey to Chicago's glamorous yet crime-ridden 1920s, where prostitution, bootlegging, and corruption rule. Separated by fate and reunited by chance, WHERE THE NIGHT NEVER ENDS is an unforgettable tale of courage and perseverance, a tribute to the triumph of hope and love against all odds.
When feisty and headstrong Samantha Bruno loses her mother in a freak accident, she decides to search for her brother, Angelo, who didn't return from a business trip to Chicago seven months earlier. It is the year 1924, the height of prohibition, and the city of Cincinnati is in the midst of a deep recession. Narrowly escaping a band of thugs, Sam meets Paul, a mysterious hobo with a big secret. Together they embark on a harrowing journey to Chicago, where Al Capone is building an empire.
Just when it seems their friendship is blossoming into something more, a raid tears Sam and Paul apart. Sam is sold into a brothel while Paul is arrested. Trapped without money and desperate to escape her new profession, Sam realizes she is on her own. Not only to free herself and search for her brother among Chicago's three million residents, but also to do the impossible--find Paul.
During his hearing, Paul learns that his father, a wealthy Chicago inventor, is on his deathbed. The judge, an old family friend, gives Paul an ultimatum. See your father or go to jail. Reluctantly, Paul returns home, where he finds that his decision to run away seven years earlier was based on a terrible mistake.
Narrated in alternating chapters by Sam and Paul, with rich historical detail, complex characters, and stunning prose, award-winning author Annette Oppenlander once again delivers a touching novel that lets us imagine what it was like to live and love during the roaring 1920s.
Oppenlander Enterprises LLC, 9783948100018, 294pp.
Publication Date: March 15, 2019