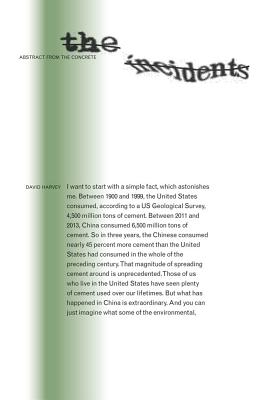 Abstract from the Concrete (Paperback)
Sternberg Press, 9783956792618, 174pp.
Publication Date: September 1, 2017
* Individual store prices may vary.
Description
Marxist geographer David Harvey opened his lecture with a fact: between 2011 and 2013 China consumed 50 percent more cement than the United States had in the entire twentieth century. In Abstract from the Concrete, he asks why. Spiraling outward--geographically and materially--Harvey travels from the building industry in China to the foreclosed housing market in the United States to the automobile industry in S o Paolo and back again. The why emerges as a direct result of "anti-value," of capital in crisis--intrinsic, he contends, to capital and capital cities today.
The Incidents is a series of publications based on events that occured at the Harvard University Graduate School of Design between 1936 and tomorrow.
Edited by Jennifer Sigler and Leah Whitman-Salkin
Copublished with the Harvard University Graduate School of Design