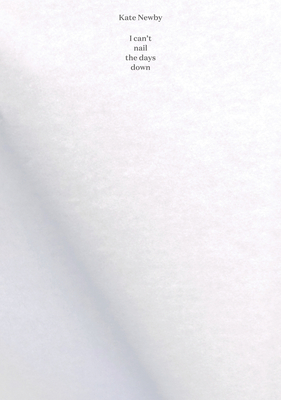 Kate Newby
I Can't Nail the Days Down
Hardcover

* Individual store prices may vary.
Description
The publication
I can't nail the days down
documents, contextualizes, and supplements Kate Newby's eponymous exhibition at Kunsthalle Wien.
Newby's works celebrate the moment in which her sculptures and interventions are created and presented, and at the same time allow for an openness to change. Drawn from impressions she collects when navigating cities and landscapes, Newby's works foreground processes: Traces of their making remain visible, they incidentally transform over time and call for active engagement in order to view their multifaceted details.
Her works focus on the fleeting and contingent nature of the quotidian and stay connected to the place and time of their presentation. Due to the fleeting nature of Newby's works, documentation is in many cases the only record that remains. The publication includes substantial documentation of the Vienna exhibition as well as a photo essay by the artist. Contributions by Christina Barton, Juliane Bischoff, Chris Kraus, and Nicolaus Schafhausen explore the artist's influences, the social of her work, and its poetic potential. The publication discusses the development of the exhibition "I can't nail the days down," and clarifies how the presented work operated. It ponders on Newby's relation to art movements of the 1960s and '70s as well as her responsiveness to sites and situations, and brings together reflections on the quotidian character of her works as well as every day stories.
Newby takes up material realities and their details in different intensities--not to replicate existing lifeworlds, but to direct attention to often overlooked and changing aspects in the larger social fabric. Manifestations of how the artist perceives the world around her, her works invite us to take a closer look and discover what is situated out of sight.
Copublished with Kunsthalle Wien
Sternberg Press, 9783956794803, 138pp.
Publication Date: July 9, 2019
About the Author
Nicolaus Schafhausen is a curator at the Documentation Center for the History of National Socialism in Munich. Chris Kraus is the author of four novels, including I Love Dick and Summer of Hate; two books of art and cultural criticism; and most recently, After Kathy Acker: A Literary Biography. She received the College Art Association's Frank Jewett Mather Award in Art Criticism in 2008, and a Warhol Foundation Art Writing grant in 2011. She lives in Los Angeles.