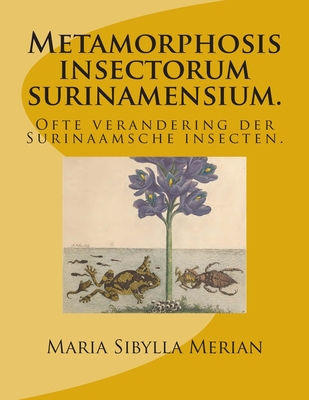 Metamorphosis Insectorum Surinamensium. (Paperback)
Ofte Verandering Der Surinaamsche Insecten.
Reprint Publishing, 9783959400053, 192pp.
Publication Date: April 10, 2015
* Individual store prices may vary.
Description
Complete digitally restored reprint of the original edition of 1705 with 60 colored illustrations in excellent resolution and outstanding readability. The book is printed in full color.
About the Author
Maria Sibylla Merian (geboren 2. April 1647 in Frankfurt am Main, gestorben 13. Januar 1717 in Amsterdam). Sie war eine Naturforscherin und Kunstlerin. Nach Abschluss ihres zweijahrigen Aufenthaltes im sudamerikanischen Kustenstaat Surinam veroffentlichte sie ihr Hauptwerk Metamorphosis Insectorum Surinamensium," das die Kunstlerin weltberuhmt machte. Wegen ihrer genauen Beobachtungen und Darstellungen zur Metamorphose der Schmetterlinge gilt sie als wichtige Wegbereiterin der modernen Insektenkunde (Entomologie)."