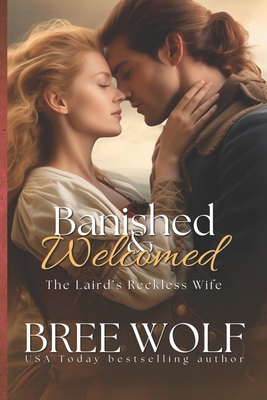 Banished & Welcomed
The Laird's Reckless Wife
Paperback

* Individual store prices may vary.
Description
In this Highland Regency romance by USA TODAY bestselling and HOLT Medallion winning author Bree Wolf, a reticent Scottish laird and a young woman banished from her own clan are swept into a romance neither one of them ever expected. Scotland 1808: As laird, CORMAG MACDRUMMOND knows his duty to his clan. All his life, he's put their needs before his own, silencing his heart's deepest desires. But then an allied laird makes a request that Cormag cannot refuse. Duty-bound, he offers the man's fair cousin a place among his people, vowing to keep her safe from the dark rumours that follow wherever she goes. However, the moment he lays eyes on MOIRA BRUNWOOD, Cormag knows that he's made a grave mistake. Her soulful, blue eyes and unyielding pride soon steal into his guarded heart, and before long, Cormag finds himself falling under her spell in a way he would never have expected. Moira has the Sight. Always have her dreams shown her glimpses of the future, and always has she acted upon them. However, one wrong step sees her banished from her own clan, her family, her home and thrust among strangers, who look at her with suspicion and mistrust. Whispers abound of her otherworldly abilities, and some even believe she's a witch. Moira is determined not to cower, not to yield, and yet, she finds that loneliness is a fate worse than death. Her heart aches for comfort, for closeness, longing for a chance at redemption...but even more so longing for the laird who granted her sanctuary. Despite the cold distance that rests in his grey eyes, Moira soon learns that a warm and caring heart beats in his chest as Cormag comes to her aid time and time again. His strength makes her feel safe while his gentleness unwittingly steals her heart and stirs her pulse. However, not all are willing to see past Moira's transgressions, and soon Cormag finds himself torn between claiming the woman he loves and staying true to his people. Read Banished & Welcomed and fall in love with this mesmerizing and destined highland love Each love story in this series can be read as a stand-alone. However, most readers prefer to read them in order.
Bree Wolf, 9783964820594, 320pp.
Publication Date: September 18, 2019