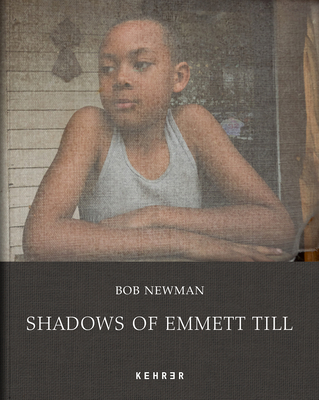 Shadows of Emmett Till
Hardcover

* Individual store prices may vary.
Description
An exceptional publication, both alarming and poignant, that sheds light
on unresolved racial injustices in the time of Black Lives Matter The
Mississippi Delta has been called "The Most Southern Place on Earth," a region
of layered histories that collide with each other on a daily basis. It's a
place that defines America and Americans like no other part of the country - a
culture entwined with slavery, poverty, and political and economic oppression.
It is the land that gave birth to the creative genius of Muddy Waters and B.B.
King, and to the horror of the Civil Rights-era murder of young Emmett Till. Shadows of Emmett Till seeks to probe that complex past: picturing the
energy of a landscape that has bred both hatred and creativity, interrogating
the whiteness that has always held power in its grip in a place that is
predominantly Black, and observing the many ways the shadow of Till's murder
still hangs over the Delta. This is work that breathes the Delta air and seeks
to frame the region and its people in a 21st-century context, at a
time when white America may be starting to finally come to terms with the sins
of its past. It guides the viewer
in an exploration of what the Delta was and what it now is.
Along the way,
one can see the past spill into the present punctuated with troubling parallels
to George Floyd and so many others.

Kehrer Verlag, 9783969000694, 268pp.
Publication Date: December 6, 2022
About the Author
Bob Newman is a retired physician, who for the past 15 years, has been working as a professional photographer engaged in long-term projects. His career in medicine, with a practice that served disadvantaged communities, guides his work as a visual storyteller. He is drawn to collaborating with members of marginalized communities to document the challenges they face and the richness of their cultures. Recognizing the work in his Shadows of Emmett Till Project, International Photography Awards (IPA) selected him as Deeper Perspective 2021 Photographer of the Year and as a Jury Top Five Selection. He received a LensCulture Critic's Choice Award and was named a 2021 Finalist for Photolucida Critical Mass and The London International Creative Competition. The Independent Photographer included his images as part of the "2021 Through 10 Compelling Photographs" Retrospective. In 2020, he was named to the Critical Mass Top 50, Short Listed in the Portrait of Humanity Competition, named a Finalist in the Fresh Annual Summer Exhibition, and selected as Portrait Finalist at the Head On Photo Festival (Sydney, Australia). International Photography Awards (IPA) selected thirteen images of his for awards including Jury Top 5, First Place and Honorable Mentions. He participated in VII Photo's 2018-2019 Masterclass in Warsaw and the 2019 Eddie Adams Workshop. Additional awards received in 2019 recognizing the quality of his images include Travel Photography of the Year Finalist and International Photography Awards Best of Show & 1st Place Awards. Bob Newman is based in Gainesville, Florida.