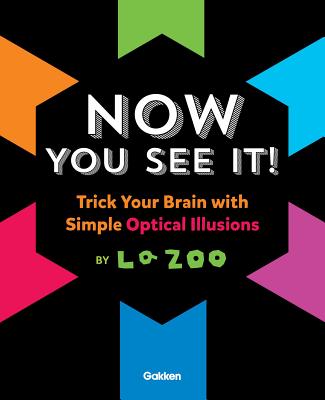 Now You See It!
Amazing Optical Illusions
Hardcover

* Individual store prices may vary.
Description
Is what you see really what's there? Are you ready to be fooled?

In NOW YOU SEE IT! children and families will love this whimsical collection of trick of the eye optical illusions for kids—a carnival of colors and shapes that move and spin through the pages—or do they?!

A breath of fresh air and unique addition to any home library or classroom, this is a great gift for school-age or preschool children that the whole family will enjoy.

This charming, bright, and colorful book welcomes you into a world of trick art and optical illusions… and will make you think twice about how you see what you see.

It's the perfect introduction to optical illusions for young readers. You'll lose track of time with optical oopsies and games that will have the whole family laughing.

The innovative creator of MAGIC CRAYON KIT and MONSTER MAGIC, La ZOO is an award-winning, best-selling Japaense author and illustrator whose books have sold millions of copies around the world. Gakken Publishing is the largest publisher of children's educational books in Japan. For the first time, these sophisticated and exciting books are now available to parents and teachers in the United States.

What parents are saying about NOW YOU SEE IT!:
"Five Stars. Love this book, great for grandkids..."
Gakken, 9784056210613, 48pp.
Publication Date: October 2, 2018
About the Author
The innovative creator of MAGIC CRAYON KIT and MONSTER MAGIC, La ZOO is an award-winning, best-selling Japaense author and illustrator whose books have sold millions of copies around the world. Gakken Publishing is the largest publisher of children's educational books in Japan. For the first time, these sophisticated and exciting books are now available to parents and teachers in the United States.

What parents are saying about NOW YOU SEE IT!:
"Five Stars. Love this book, great for grandkids..."
or
Not Currently Available for Direct Purchase