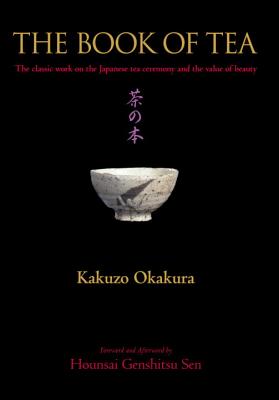 The Book of Tea (Hardcover)
The Classic Work on the Japanese Tea Ceremony and the Value of Beauty
Kodansha, 9784770030146, 155pp.
Publication Date: February 17, 2006
Other Editions of This Title:
Paperback (6/6/2019)
Paperback (9/24/2019)
Paperback (10/4/2019)
Paperback (6/3/2019)
Paperback (6/17/2019)
Paperback (7/27/2019)
Paperback (9/1/2004)
Paperback (4/15/2019)
Paperback (5/16/2009)
Paperback (11/23/2017)
* Individual store prices may vary.
Description
The Book of Tea has served for more than a century as one of the most perceptive introductions to Asian life and thought in English. Publication of the book was a pioneering effort in the cultural bridge-building between East and West. Kakuzo Okakura perceived chanoyu -- literally, "the way of tea" -- as a form of spiritual culture, a disipline that transforms itself into the Art of Life. In writing of chanoyu, his concern was the broad current of Asian culture flowing eastward from India, and its potential contribution to the culture of all humankind. Buddhism, Taoism, Zen, and Chinese and Japanese aesthetics are discussed, giving voice to traditional Asian values and ideals that had been little recognized in the West. Thus, he sought to convey the spirit of chanoyu as a crystallization of the cultural life of the East.
About the Author
KAKUZO OKAKURA was born in Yokohama in 1862. Son of a samurai family, he met the American professor of Philosophy and political economy Ernest Fenollosa(1853-1908) at Tokyo University, and later moved to Boston, Joining the artistic circle there. In 1905, he became adviser and later assistant curator to the Chinese and Japanese Department of the Boston Museum of Fine Arts. He wrote He wrote The Book of Tea in 1906, in English, and it has been continually in print ever since. Okakura died in 1913. HOUNSAI GENSHITSU SEN is a direct descendent of Sen no Rikyu (1522-1591), who established the foundations of chanoyu (tea ceremony) as they are still practiced today. As Grand Master of the Urasenke School he has traveled throughout the world to communicate these principles, and those of harmony, respect, purity, and tranquility that they represent.
or
Not Currently Available for Direct Purchase