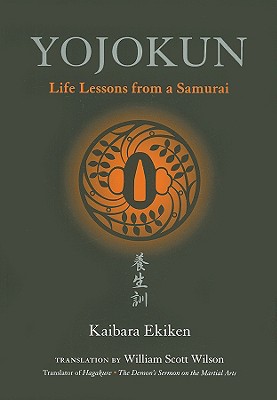 Yojokun (Hardcover)
Life Lessons from a Samurai
Kodansha International, 9784770030771, 255pp.
Publication Date: January 1, 2009
* Individual store prices may vary.
Description
The dawn of the 17th century saw peace descend on Japan. With the value of their martial skills on the decline, the samurai sought new spiritual, moral, psychological, and physical moorings. Tsunetomo Yamamoto, author of the now-classic Hagakure, combined a Confucian sense of justice with a Zen-influenced abandonment of the ego to espouse loyalty and death as paramount qualities of the samurai's calling.
Kaibara Ekiken (16301714), a samurai physician with philosophical and Buddhist leanings, took the opposite approach. He sought ways for a healthier, more rewarding life. In his Yojokun: Life Lessons from a Samurai, he collected six decades of study and observation to compile one of the most remarkable commentaries of his age.
Ekiken's sweep was vast. In Yojokun, he combined his knowledge of holistic health, the principles of chi (the material force that pervades all things) and jin (human heartedness), Buddhism, Confucianism, and the art of living. He addressed concerns that ran from mental and physical health to spiritual matters. His discourses examined the intake of food and drink, sexual practices, sustaining stamina and health in old age, overindulgence and restraint, bathing and healthy habits, and more. And throughout his discussion he wove a subtle but potent spiritual and philosophical thread.
Yojokun offers startlingly profound and fresh insights into many of the same problems that concern us today. Translator William Scott Wilson notes Ekikens relevance for the 21st century: The Yojokun, then, is not just a vestige of quaint Orientalia, but rather a living guide to a traditional Way of life and balanced health. If we do not immediately understand some of its more exotic prescripts, it may be wiser not to dismiss them outright, but to approach the work as Ekiken himself might have: with humility, curiosity, respect, and imagination.
About the Author
Kaibara Ekiken was a samurai physician and became known for his intellect and wide interests, which encompassed a myriad of subjects, including Confucianism, Buddhism, education, history, herbal remedies, spiritual issues, and philosophy. William Scott Wilson is the well-known translator of many Japanese and Chinese classics, most recently Kodansha's The 36 Secret Strategies of the Martial Arts. Kodansha's edition of Hagakure, published in 1979, was Wilson's first translation; his other translations include The Book of Five Rings, The Life-Giving Sword and The Demons Sermon on the Martial Arts. He is also the author of The Lone Samurai.
or
Not Currently Available for Direct Purchase