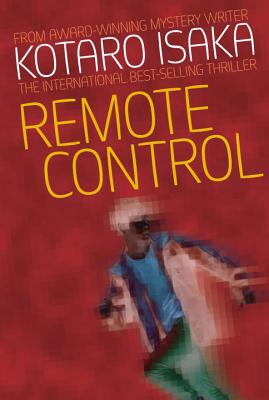 Remote Control (Hardcover)
Kodansha International, 9784770031082, 344pp.
Publication Date: March 1, 2011
* Individual store prices may vary.
Description
Masaharu Aoyagi, a former delivery-truck driver in the city of Sendai, is unemployed. Two years ago he achieved brief notoriety for rescuing a local actress from a robbery attempt while making a delivery to her apartment. Now he is back in the spotlight – this time as the main suspect in the assassination of a newly elected prime minster who had come to Sendai for a hometown victory parade.

Set in a near-future Japan modeled on the United States, Remote Control follows Aoyagi on a forty-eight-hour chase, in a dramatic retelling of the Kennedy killing with Aoyagi in the role of a framed Lee Harvey Oswald. A massive manhunt is underway. As Aoyagi runs, he must negotiate trigger-happy law enforcement and Security Pods set up throughout the city to monitor cell-phone and email transmissions and keep a photo record of street traffic. Can he discover why he has been set up and who is responsible? Can he find the real assassin and prove to the world his innocence – amidst media pronouncements of his guilt – before the conspirators take him out?

Isaka's style and worldview are such that he is often compared to Haruki Murakami; but he defies an easy label as a writer, with a voice, a sense of humor, and an imagination that are truly unique. Now, with this excellent translation by Stephen Snyder, readers everywhere can enjoy one of Japan's finest literary talents.

•     Winner of the Shugoro Yamamoto Prize and the Japan Booksellers' Prize
•     No. 1 in Japan's 2009 "This Mystery is Amazing!" rankings
About the Author
Kotaro Isaka graduated from Tohoku University, School of Law. Formerly a systems engineer, he debuted as a writer with Audubon's Prayer. His novels and short-story collections have been nominated for the Naoki Prize – Japan's most prestigious award for popular fiction – and many have been made into movies, including Remote Control, which was released in 2010 under the book's original title, Golden Slumber.


Stephen Snyder is the acclaimed translator of Natsuo Kirino's Out, Ryu Murakami's Coin Locker Babies, and Yoko Ogawa's The Diving Pool, The Housekeeper and the Professor, and Hotel Iris. He teaches Japanese literature at Middlebury College in Vermont.
Praise For Remote Control…
"Set in a near-future Japan, Isaka's remarkable thriller adroitly shifts between the extended pursuit of handsome Masaharu Aoyagi, a former deliveryman accused of killing Prime Minister Sakayoshi Kaneda by dropping a bomb from a remote-control toy helicopter onto the official motorcade, and several other characters associated with Aoyagi, who's been mercilessly set up by high-placed persons unknown. . . . Isaka cuts perilously close to the bone of today's politics in this elegant, intricate, enormously satisfying parable of good and evil." – Publishers Weekly (starred review)



"Winner of the Sugoro Yamamoto Prize and the Japan Bookseller's Prize, this dynamic and complex political thriller is set in a near-future Japan, where high-tech security pods monitor every move. When the new prime minister is assassinated in a complicated conspiracy involving a remote-control helicopter, the perfect patsy is Masaharu Aoyagi, a flawed hero who gained notoriety after saving an actress from a robbery. . . . VERDICT: With a plot that parallels the JFK assassination and the feverish hunt for Lee Harvey Oswald, this is sure to appeal to fans of conspiracy mysteries." – Library Journal



". . . plot twists and turns keep the narrative riveting and surprising, right until the end. In this character-driven work, dialogue supersedes action, yet the pacing will keep readers interested throughout. Remote Contro is a complicated story, but a quick read. . . . Translating from Japanese to English under any circumstances isn't easy, but maintaining the author's style, wit, and subtle humor when performing that translation is a herculean effort. Stephen Snyder pulled it off flawlessly." – ForeWord Reviews



"A bestseller in Japan, Isaka's near-future thriller is a complex crime story inspired by the Kennedy assassination but set in a futuristic Japanese city where everything is monitored by security pods on every street corner. The newly elected prime minister is killed when his motorcade is attacked by a bomb-carrying, remote-controlled helicopter, setting off a media frenzy. The initial story is told from the point of view of a hospital patient watching the news coverage, followed by a 20-years-later overview of the case, which was never really solved. The remainder of the story is told from the alternating points of view of the main characters. . . . Isaka's manipulation of these narrative devices keeps the pace fast and allows for lots of character development. . . ." -- Booklist



"Both a comment on contemporary social disconnection and a warning about what can happen when a complacent public welcomes the loss of privacy with open arms, Isaka's Remote Control is a timely thriller. And a rare one that takes an ordinary guy, throws him into the fire, and doesn't make him into some kind of "Sendai's Bravest" hero at the end. Rather, he gets by, with a little help from his friends." – Mystery Scene



"Remote Control by Kotaro Isaka is an exciting, riveting mystery. . . . Recommended!" – J!-ENT
or
Not Currently Available for Direct Purchase