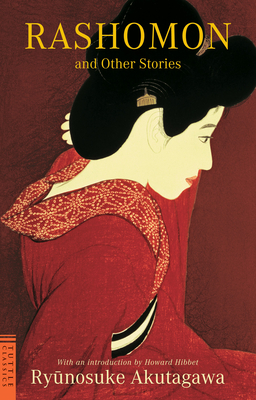 Rashomon and Other Stories (Tuttle Classics) (Paperback)
Tuttle Publishing, 9784805308820, 123pp.
Publication Date: November 15, 2007
* Individual store prices may vary.
Description
"Clear-eyed glimpses of human behavior in the extremities of poverty, stupidity, greed, vanity... Story-telling of an unconventional sort, with most of the substance beneath the shining, enameled surface." --The New York Times Book Review
This collection of six short stories, most of which have never been translated before, includes "In a Grove," a psychologically sophisticated tale about murder, rape, and suicide; "Rashomon," the story of a thief scared into honesty by an encounter with a ghoul; and "Kesa and Morito," the story of man driven to kill someone he doesn't hate by a lover whom he doesn't love. "There are enough Swiftian touches in Akutagawa to show his hatred of stupidity, greed, hypocrisy and the rising jingoism of the day. But Akutagawa's artistic integrity kept him from joining his contemporaries in the easy social criticism or naive introspection...What he did was question the values of his society, dramatize the complexities of human psychology, and study, with a Zen taste for paradox, the precarious balance of illusion and reality."--Howard Hibbett, from the Introduction of
Rashomon and Other Stories
Classic Japanese stories include:
In a Grove
Rashomon
Yam Gruel
The Martyr
Kesa and Morito
The Dragon
About the Author
Ryunosuke Akutagawa was the author of over 100 short stories. Described as one of the best-read men of his generation, he received a degree in English Literature from Tokyo Imperial University and published translations by Anatole France and W. B. Yeats. Two of his short stories from this collection became the basis of the award-winning movie Rashomon by famed director Akira Kurosawa. In 1927, he committed suicide at the age of thirty-five.
Praise For Rashomon and Other Stories (Tuttle Classics)…
"There are enough Swiftian touches in Akutagawa to show his hatred of stupidity, greed, hypocrisy, and the rising jingoism of the day. But Akutagawa's artistic integrity kept him from joining his contemporaries in the easy social criticism or naive introspectionàWhat he did was question the values of his society, dramatize the complexities of human psychology, and study, with a Zen taste for paradox, the balance of illusion and reality."—Howard Hibbett