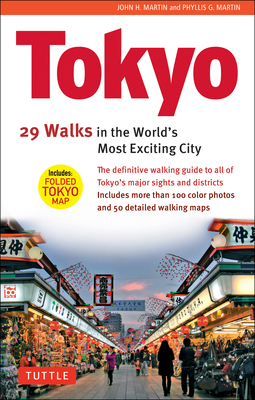 Tokyo, 29 Walks in the World's Most Exciting City [With Folded Tokyo Map] (Paperback)
Tuttle Publishing, 9784805309179, 288pp.
Publication Date: September 10, 2012
* Individual store prices may vary.
Description
The only guide you'll need for walking around Tokyo Everything you need is in this one convenient package--including a large pull-out map
Tokyo: 29 Walks in the World's Most Exciting City
is the only Tokyo travel guide that is exclusively a walking guide, with lively text full of facts and stories that emphasize the history, culture, architecture and spirit of the city and its neighborhoods. On foot and by train or subway, it takes you through the most fascinating parts of the modern megalopolis, while making the shogun's city--the Edo of samurai and geishas, merchants and artisans--and the outlines of old Tokyo come alive. From famous historical sites like the Imperial Palace to unique attractions like the Tsukiji Fish Market, this travel book offers something for every visitor and even long-term residents.
Fully up-to-date, Tokyo: 29 Walks in the World's Most Exciting City contains:
19 walks in Tokyo
10 day trips that include Yokohama, Kamakura, Mt. Fuji, and Kawagoe
More than 100 full-color photos
50 full-color maps
A large pull-out map
About the Author
John H. Martin was a professor of Chinese and Japanese Civilization at the University of Richmond and taught courses in Japanese history, religion, and culture at several colleges in New York State. Dr. Martin and his wife, Phyllis G. Martin, have been directors of museums in New York and have traveled extensively in Japan. They previously wrote Kyoto: 29 Walks in Japan's Ancient Capital and Kyoto: A Cultural Guide.