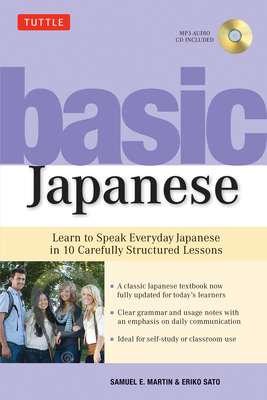 Basic Japanese (Paperback)
Learn to Speak Everyday Japanese in 10 Carefully Structured Lessons (MP3 Audio CD Included) [With CD (Audio)]
Tuttle Publishing, 9784805309629, 351pp.
Publication Date: October 10, 2012
Other Editions of This Title:
Paperback (11/14/2017)
* Individual store prices may vary.
Description
Basic Japanese takes a friendly and innovative approach to beginner Japanese, emphasizing the structure of the Japanese language rather than just vocabulary.
This method was pioneered by the author,
Samuel E. Martin
. Once considered controversial, modern linguists now agree that the structurally based approach for learning a language allows for more efficient retention than the traditional repetition-based approach. It is especially useful for self-study and first-time learners as well as in a classroom setting. The MP3 Audio-CD helps to reinforce pronunciation and build listening comprehension. Each lesson is set up to ease learners into not just understanding the new material but mastering it, using a four-step method:
Step 1: Basic Sentences: Each lesson begins with the key to quick mastery of spoken Japanese--learning and understanding new sentence patterns. Vocabulary is learned in context. A Basic Vocabulary section lists only essential words and phrases that are relevant to the theme of the lesson.
Step 2: Structure Notes: Next the learner is guided through complete, in-depth explanations of the sentences' grammar essentials, to aid in mastering the sentence patterns.
Step 3: Conversation: Authentic dialogue teaches the way people naturally speak, putting into practice the lesson's sentence patterns with everyday topics.
Step 4: Exercises: An opportunity for practicing--and for strengthening your understanding of the lesson's key points and ability to read Japanese.
About the Author
Samuel E. Martin was a master teacher of the Japanese language and a major force in language learning in the postwar U.S. He received his undergraduate and master's degrees in Oriental languages from the University of California at Berkeley and his Ph.D. in linguistics from Yale University. At Yale he served as chairman of the Department of East and South Asian Languages and Literatures and the Department of Linguistics. He is the author of numerous books and papers on Japanese and Korean, including the definitive A Reference Grammar of Japanese and A Reference Grammar of Korean. Eriko Sato is Associate Professor of Japanese and Japanese linguistics and the director of the Pre-College Japanese Program and the Teacher Certification Program for Japanese at the State University of New York at Stony Brook, where she received her Ph.D. in Linguistics in 1996. She authored Japanese for Dummies (Wiley, 2002), Japanese Demystified (McGraw Hill, 2008), and Contemporary Japanese: A Textbook for College Students (Tuttle, 2005), and co-authored My First Japanese Kanji Book (Tuttle, 2009) and Essential Japanese Grammar (Tuttle, 2012).
or
Not Currently Available for Direct Purchase