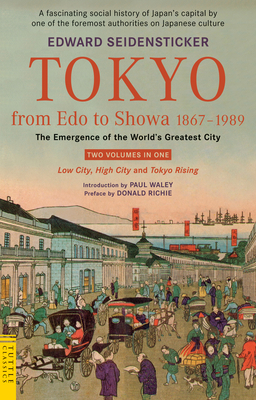 Tokyo from EDO to Showa 1867-1989 (Paperback)
The Emergence of the World's Greatest City; Two Volumes in One: Low City, High City and Tokyo Rising (Tuttle Classics)
Tuttle Publishing, 9784805310243, 636pp.
Publication Date: December 10, 2010
* Individual store prices may vary.
Description
"These two volumes by Edward Seidensticker may well be the envy of every university press...desirable reading for amateur historians and tourists alike."--Thomas Stanley, Director of Walk Japan Limited There can be few cities in the world that live, pulsate, and breathe through their geography as Tokyo does, few cities with a history that shifts through the creases of space as does that of Tokyo. This is particularly ironic in a city whose neighborhoods today hold few distinctive features and whose gentle topography has been all but obscured by batteries of building. But it was not always so, and what better way is there of writing Tokyo's history than by reflecting this shifting geography as neighborhoods prospered and declined while others, more aspirational, climbed up the socio-spacial ladder? This is precisely what Edward Seidensticker does in the pages of these books, brought together here together for the first time under one cover with numerous illustrations and an insert of beautifully colored Japanese woodblock prints of Tokyo from the era. Tokyo: From Edo to Showa tells the story and history of Tokyo's transformation from the Shogun's capital in an isolated Japan to one of the most renowned modern cities in the world. With the same scholarship and style that won him admiration as one of the premier translators of Japanese literature, Seidensticker offers the reader his own brilliant picture of a whole society suddenly emerging into the modern world. By turns elegiac and funny, reflective and crisp, Tokyo: From Edo to Showa is an important cultural history of Asia's greatest city.
About the Author
Edward Seidensticker, 1921-2007, was a distinguished translator and scholar who was responsible for introducing the works of a number of important modern Japanese novelists to the English-speaking world. At the time of the writing of this book, he was spending half of the year in New York where he was Professor of Japanese at Columbia University and half of the year in Tokyo. Donald Richie, novelist, essayist, journalist, and film scholar, was born in Lima, Ohio, in 1924, but has spent most of the last sixty years (except for time at Columbia University in the early 1950s and as curator of film at New York's Museum of Modern Art in 1968-73) witnessing and reporting on the transformation of Japan from postwar devastation to twenty-first century economic and cultural powerhouse. He is the author of some forty books of fiction and non-fiction, dozens of speeches and essays, and hundreds of book, film, and arts reviews. Recent collections include The Donald Richie Reader: 50 Years of Writing on Japan (2001) and Japan Journals 1947-2004 (2004), based on his detailed record of his life in Japan. He still lives and writes in Tokyo. Paul Waley is a geographer at the University of Leeds in Britain who spent many years living in Japan where he worked as an editor, translator and writer. During that period he wrote a historical guidebook to Tokyo, Tokyo Now and Then, later republished in revised form as Tokyo, City of Stories. He visits Tokyo regularly, researching and writing both on the history of the city and on Tokyo's changing dynamics in contemporary Japan.
or
Not Currently Available for Direct Purchase