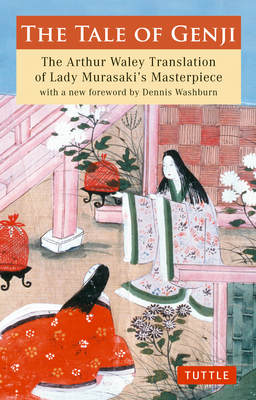 The Tale of Genji
The Arthur Waley Translation of Lady Murasaki's Masterpiece with a New Foreword by Dennis Washburn (Tuttle Classics)
Paperback

* Individual store prices may vary.
Description
What Waley did create is literary art of extraordinary beauty that brings to life in English the world Murasaki Shikibu imagined. The beauty of his art has not dimmed, but like the original text itself retains the power to move and enlighten.--Dennis Washburn, from his foreword Centuries before Shakespeare, Murasaki Shikibu's The Tale of Genji was already acknowledged as a classic of Japanese literature. Over the past century, this book has gained worldwide acceptance as not only the world's first novel but as one of the greatest works of literature of all time. The hero of the tale, Prince Genji, is a shining example of the Heian-era ideal man--accomplished in poetry, dance, music, painting, and, not least of all to the novel's many plots, romance. The Tale of Genji and the characters and world it depicts have influenced Japanese culture to its very core. This celebrated translation by Arthur Waley gives Western readers a very genuine feel for the tone of this beloved classic. This edition contains the complete Waley translation of all six books of The Tale of Genji and also contains a new foreword by Dennis Washburn with key insights into both the book and the importance of this translation for modern readers.
Praise For The Tale of Genji: The Arthur Waley Translation of Lady Murasaki's Masterpiece with a New Foreword by Dennis Washburn (Tuttle Classics)…
"While Tyler's version, which attempts to capture the social and political nuance of Murasaki's language, is the best choice for scholars, Waley's remains the most attractive and accessible for the general reader."—Library Journal

"The Tale of Genji, as translated by Arthur Waley, is written with an almost miraculous naturalness, and what interests us is not the exoticism—the horrible word—but rather the human passions of the novel. Such interest is just: Murasaki's work is what one would quite precisely call a psychological novel. I dare to recommend this book to those who read me."—Jorge Luis Borges, The Total Library
Tuttle Publishing, 9784805310816, 1155pp.
Publication Date: March 10, 2010
About the Author
Lady Murasaki Shikibu, born in the year 978, was a member of the famed Fujiwara clan--one of the most influential families of the Heian period. Her literary ability quickly won her a place in the entourage of the Empress Akiko. After the death of her husband, Murasaki Shikibu immersed herself in Buddhism, and the religion's influences permeate her writing. Arthur Waley (1889-1966) taught himself Chinese and Japanese after being appointed Assistant Keeper of Oriental Prints and Manuscripts at the British Museum. He went on to become renowned as one of the most respected translators of Asian classics into English of his time. His translated works include The Noh Plays of Japan and Monkey.
or
Not Currently Available for Direct Purchase