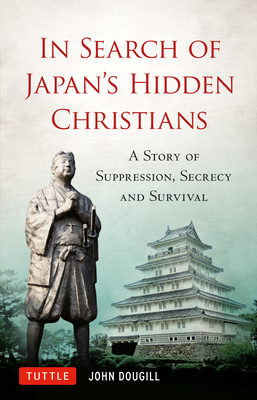 In Search of Japan's Hidden Christians
A Story of Suppression, Secrecy and Survival
Hardcover

* Individual store prices may vary.
Other Editions of This Title:
Paperback (12/1/2015)
Description
The story of Japan's hidden Christians is the subject of a major motion picture by director Martin Scorsese, based on Shusaku Endo's famous novel, Silence. From the time the first Christian missionary arrived in Japan in 1549 to when a nationwide ban was issued in 1614, over 300,000 Japanese were converted to Christianity. A vicious campaign of persecution forced the faithful to go underground. For seven generations, Hidden Christians--or Kirishitan--preserved a faith that was strictly forbidden on pain of death. Illiterate peasants handed down the Catholicism that had been taught to their ancestors despite having no Bible or contact with the outside world. Just as remarkably, descendants of the Hidden Christians continue to this day to practice their own religion, refusing to rejoin the Catholic Church. Why? And what is it about Christianity that is so antagonistic to Japanese culture? In Search of Japan's Hidden Christians is an attempt to answer these questions. A journey in both space and time, In Search of Japan's Hidden Christians recounts a clash of civilizations--of East and West--that resonates to this day and offers insights about the tenacity of belief and unchanging aspects of Japanese culture.
Praise For In Search of Japan's Hidden Christians: A Story of Suppression, Secrecy and Survival…
"John Dougill's In Search of Japan's Hidden Christians is one of the most compelling and important books on Japan in recent years. The story of Japan's Hidden Christians is one of the least known and most interesting aspects of Japanese history, and Dougill brings the story to life brilliantly."—Chris Rowthorn, author of Lonely Planet Japan and Lonely Planet Kyoto

"Eloquently written, with surprises around every corner, Hidden Christians is an engaging read. Dougill's personal touch to the narrative makes the book lively and highly readable."—Amy Chavez, columnist, Japan Times

"A knowledgeable, thorough, and lively survey of Christianity in Japan and its intriguing legacies."—David Mitchell, The Thousand Autumns of Jacob de Zoet

"This book is a moving and personal meditation on the history and present situation of Japan's Kakure Kirishitan. The combination of individual testimonies and reflections based on sound research paints a rounded and up-to-date picture of these remarkable communities."—Stephen Turnbull, author of Samurai Swordsman

"The narrative is engaging, as Dougill's perspective is both instructive and playful. This is one of the best books out there about this subject of east meeting west."—San Francisco Book Review

"British-born professor Dougill, who teaches British studies in Kyoto, seems to embody the very culture clash that intrigues him. In this book, he peels back layers of Japanese culture as he explores the history of the Kakure Kirishitan (Hidden Christians). From the arrival of the first Portuguese missionaries to Japan in 1549 through conversions and persecution, Dougill shows how the imported religion was "filtered through a Japanese consciousness." Revealing an early culture clash so relevant to our contemporary global society, he ponders how strange and even offensive European Christianity must have seemed to a country that had no context for the religion or even the manner of dress. As Buddhist and Shinto culture, together with trade and military tactics, became intertwined with Christian conversions, the Hidden Christian population became heterodox, tortured, and marginalized. Readers are immersed in Dougill's travel adventures as he visits historical sites of the Kirishitan. And even those who stumble over the Japanese terminology will understand the importance of a book detailing a dwindling subculture now fading into history."—Publishers Weekly

"The most original and beneficial contribution of this book is Dougill's narrative of his travels around southern Japan visiting historical sites. His travelogue offers glimpses of how modern Japanese address their country's Christian past, whether memorializing martyrdoms, exploiting a semi-foreign faith for tourism, or simply forgetting it was ever there. As for the Hidden Christians themselves, they are hard to find, having become sparse, elderly, and again hidden to evade bothersome journalists and anthropologists. In all, this is a historically sound, well-related introduction to a significant subject in Asian Christianity."—Catholic Library World

"A nonfiction work about devotion, the book is also a lively travelogue. And Dougill is a tireless journeyman and sleuth, going to wherever there is a story or lead. He tracks down descendants of hidden Christians on the island clusters of Amakusa, Goto and Ikitsuki, meets with curators, historians in Shimabara and Nagasaki, engages fisher folk in conversations about history.
Tuttle Publishing, 9784805311479, 272pp.
Publication Date: March 10, 2012
About the Author
John Dougill has lived in Japan for over twenty years and is professor at a Buddhist university in the heart of Kyoto. He is an associate editor for Japanese Religions and co-author of a guide to Shinto Shrines. Educated at Leeds and Oxford Universities, he taught for three years in the Middle East before spending ten months traveling around the world. As well as following the path of early Christians around Kyushu, he has journeyed from Lake Baikal to Lake Biwa in search of Japan's shamanistic roots and traversed the country researching Japan's World Heritage Sites. Amongst his hobbies are chess, the GreenShinto blog, and bird-spotting on the Kamogawa River.
or
Not Currently Available for Direct Purchase