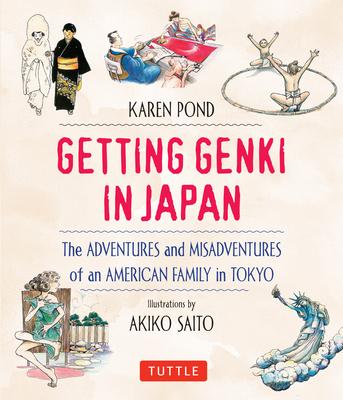 Getting Genki in Japan (Hardcover)
The Adventures and Misadventures of an American Family in Tokyo
Tuttle Publishing, 9784805311769, 192pp.
Publication Date: May 10, 2012
* Individual store prices may vary.
Description
The unexpected gift of a favored bottle of shiraz from her husband leads to the adventure of a lifetime for Karen Pond and her family--moving from rural Maine to the largest city in the world: Tokyo, Japan. Getting Genki in Japan is a collection of illustrated travel and culture essays and musings of a Down East Mom's absurd and exhilarating adventures in the Far East. From bewildered and befuddled (and back again) to (somewhat) wise, these narratives recount a journey of cultural discoveries, experiences and the follies of a newcomer to Japan; including (mis)identifying food, (mis)pronouncing Japanese, (mis)pantomiming for necessities, and finally figuring out how to flush the Japanese toilet.
About the Author
Karen Pond worked as a catalog copywriter for LL Bean before moving to Tokyo with her family, where she chronicled her culture shock with essays that appeared in iNTOUCH Magazine, Tokyo Families Magazine, and Being A Broad Magazine. Karen still lives in Tokyo, Japan, with her husband, three sons, and their border collie Fergus.
Praise For Getting Genki in Japan: The Adventures and Misadventures of an American Family in Tokyo…
"There's no funny writer I know who can poke fun at her life in Japan better than this author. If Rudyard Kipling said, "East is east and west is west and never the twain shall meet," Karen has definitely cracked the code to finally getting the two to laugh together!"—Joy Saison, Tokyo Families magazine
or
Not Currently Available for Direct Purchase