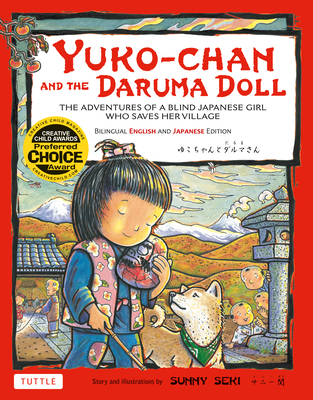 Yuko-Chan and the Daruma Doll (Hardcover)
The Adventures of a Blind Japanese Girl Who Saves Her Village - Bilingual English and Japanese Text
Tuttle Publishing, 9784805311875, 32pp.
Publication Date: March 10, 2012
* Individual store prices may vary.
Description
**2012 Creative Child Magazine Book of the Year Award Winner ** Yuko-chan and the Daruma Doll, a gorgeous multicultural children's book by author/illustrator Sunny Seki, takes readers on a journey into ancient Japan and the story behind the famous Daruma Doll. Yuko-chan, an adventurous blind orphan, is able to do amazing things. She confronts a burglar in the dead of night and crosses treacherous mountain passes to deliver food to hungry people. During her travels, Yuko-chan trips and tumbles down a snowy cliff. She discovers a strange thing as she waits for help: her tea gourd, regardless of how she drops it, always lands right-side-up. The tea has frozen in the bottom of the gourd Inspired by this, she creates the famous Daruma doll toy, which rights itself when tipped--a true symbol of resilience. Thanks to Yuko-chan's invention, the villagers are able to earn a living and feed themselves by selling the dolls. Yuko-chan never gave up, no matter the obstacles she faced, and the Daruma doll is a charming reminder of the power of perseverance. With text in English and Japanese, this book is of special interest to bicultural families.
About the Author
Sunny Seki is the award-winning author and illustrator of The Last Kappa of Old Japan and The Tale of the Lucky Cat. A native of Japan, Sunny studied illustration at Pasadena Art Center of Design. Sunny presents his books and other Japanese folktales at festivals and schools, invigorating his storytelling through shadow puppetry. Sunny is the leader of a Japanese senryu poetry group. He published Gardeners' Pioneer Story, an account of the 100-year history of Japanese gardeners through the sensitive senryu poems created by this group of immigrants. Sunny is now documenting the milestones of Japanese Americans in North America, again through their senryu poetry. Sunny, his wife Judy and their nine children live in San Gabriel, CA.
Praise For Yuko-Chan and the Daruma Doll: The Adventures of a Blind Japanese Girl Who Saves Her Village - Bilingual English and Japanese Text…
"Daruma dolls are traditional Japanese talismans of good luck and resilience, often given as a gift to encourage the recipient to persevere in reaching a personal goal. The heartening sentiment behind them is expressed in this story.…Brilliantly colored and delightfully detailed illustrations are the true highlight here. The use of bold line gives the impression of woodblock prints and cleverly echoes the broad paint strokes that decorate Daruma dolls. Pages are attractively laid out, and characters' faces are expressive and slightly cartoonish, holding great appeal for young audiences."—School Library Journal

"Seki's friendly illustrations supply a wealth of visual information about pre-WWII rural Japan, showing farmhouse interiors, a temple with a rock garden and a schoolroom, and a village festival. His story is a character-building tale about an orphan girl named Yuko, whose blindness doesn't prevent her from participating fully in village life. Lost in the snow one winter day, she realizes that the tea frozen in the bottom of her tea gourd makes the gourd reorient itself when it's knocked over, reminding her of the Buddhist teacher Daruma and his encouraging words: "If you fall down seven times, you should get up eight times!" Sales of the Daruma doll she designs save her village, whose crops have been ruined by a volcanic eruption. With Japanese text that parallels the English on every page, this is likely to find its most enthusiastic audience among students of Japanese language or culture."—Publishers Weekly

"Their crops devastated by a volcano, the villagers of Takasaki struggle to recover until Yuko-chan, an orphaned blind girl, envisions a way they can recover. After an accident, she tips over her gourd of tea, but the frozen tea always returns it upright, reminding her of Daruma's maxim that "If you fall down seven times, you should get up eight times." Yuko-chan suggests that the town make "Daruma Dolls" from gourds and sell them, a craft that saved Takasaki and continues to this day. […] Cartoon-style art features bright colors and pictures filled with traditional Japanese activity. An attractive glimpse of Buddhist images and ideas, this original story fills a unique niche for libraries."—Booklist

"Award-winning author-illustrator Sunny Seki brings the feisty and adorable Yuko-chan vividly to life in word and image. He captures the simple beauties of nature and the rustic built environment of the time as well. A Japanese translation follows the English text on each page, with hiragana (phonetic) symbols printed in superscript so novice Japanese readers can more easily follow the story. The back matter gives additional information about Daruma and the Daruma doll tradition. Tuttle's expert design and high production quality further enhance the experience of Yuko-chan and the Daruma Doll. Its impact will deepen with repeated reading."—PaperTigers.org