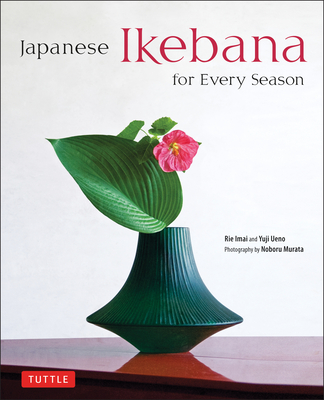 Japanese Ikebana for Every Season
Hardcover

* Individual store prices may vary.
Description
Ikebana, or making flowers alive in Japanese, is the ancient art of formal flower arrangement. Practiced since the seventh century, the true goal of Ikebana is to take a few beautiful flowers and plants and tastefully present them in very simple containers to enhance home decor. The 53 elegant designs featured in Japanese Ikebana for Every Season are perfect for special occasions--Mother's Day, Valentine's Day, birthday, anniversary--or any event that calls for a flower bouquet. The key to proper Ikebana arrangements is to understand a few straightforward principles--like the idea of mitate, seeing old things with new eyes--and to learn a few easy techniques to stabilize and support plants inside a vase or container. Using common flowers and plants from the garden, a nearby field or forest, or the local florist, anyone can easily create lovely Ikebana in just a few minutes. Authors Rie Imai and Yuji Ueno explain how to select flowers and containers from things that are already around--and then turn them into something special. The basic instructions in the book cover a wide range of styles that encourage readers to use their own creativity rather than copying traditional and highly technical Ikebana design concepts. No matter what time of year it is and regardless of your taste or budget, the arrangements in this book will lend a touch of Japanese elegance to your home.
Tuttle Publishing, 9784805312124, 144pp.
Publication Date: February 4, 2014
About the Author
Rie Imai studied floral design at Parsons New School for Design in New York and the City College of San Francisco. Her ultimate goal is to show how traditional and modern Asian aesthetics may be brought into daily life. Yuji Ueno is an independent floral artist who has developed his own unique philosophy and artistic sensibility--by turns outrageously passionate and exceptionally tranquil. Yuji has created his own distinctive style that is not linked with any recognized Japanese Ikebana school, allowing him the freedom to chart his own course. He regularly wins national Ikebana challenge competitions in Japan. Noboru Murata is one of Japan's most accomplished photographers. Based in Tokyo, he works for Elle Deco Japon, Casa Mica Italy and Elle a Table Japon. His books include The Sushi Lover's Cookbook, Japan Style, Japanese Gardens and Japan Home.