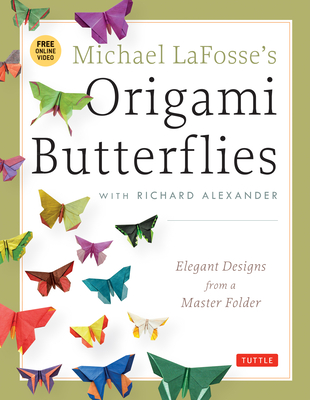 Michael Lafosse's Origami Butterflies
Elegant Designs from a Master Folder: Full-Color Origami Book with 26 Projects and 2 Instructional Dvds: Great
Paperback

* Individual store prices may vary.
Description
Fold beautiful papercraft butterflies with this easy origami book.
Whimsical, exquisite and fragile, butterflies and moths have enchanted and inspired people for centuries. Origami artist Michael G. LaFosse is no exception. His original butterfly paper-folding techniques are a dramatic new development in origami--which some have hailed as the most important advance in origami since the first paper cranes appeared centuries ago. Hundreds of LaFosse butterflies have been featured in exhibitions around the world and his iconic designs are now eagerly sought and widely imitated by folding enthusiasts everywhere.
Michael LaFosse's Origami Butterflies
presents original paper folding projects from LaFosse's extensive butterfly and moth repertoire, including all his personal favorites. This collection has many rarely-seen origami designs, and several of the models illustrate new technical and design achievements made possible by the ingenious "LaFosse Origami Butterfly Folding System." This exciting new book with accompanying DVD represents the culmination of a lifetime of designing and perfecting the art of origami butterflies. It contains everything you need to create your own unique collection.
This origami book contains
112 page, full-color book
26 original designs
Step-by-step instructions
Colorful diagrams and pictures
Advanced paper folding techniques and tips
Accompanying DVD video tutorials Videos are also streamable or downloadable online
These elegant forms--each created from a single square sheet of paper without cutting or glue--showcase the versatility of the origami folding system. All are deceptively simple, yet provide a solid foundation for creative flights of fancy in the hands of an experienced folder. Clear step-by-step instructions show you how to make hundreds of different variations by making small adjustments to a few key paper folds Whether dry-folded from recycled candy wrappers or wet-folded from expensive handmade papers, these designs exemplify the best aspects of the paper folder's art today.
Origami butterflies include:
A Butterfly for Vanessa Gould
The Butterfly for Robert Lang
A Butterfly for Eric Joisel
A Swallowtail for Guy Kawasaki
The Boston Butterfly
The Mudarri Luna Moth
All disc content is alternatively accessible on tuttlepublishing.com/downloadable-content.
Praise For Michael Lafosse's Origami Butterflies: Elegant Designs from a Master Folder: Full-Color Origami Book with 26 Projects and 2 Instructional Dvds: Great…
"The combination of butterflies, origami and Michael LaFosse cannot be anything but magical. I guarantee that this book will enchant you."—Guy Kawasaki, author of Enchantment and former chief evangelist at Apple

"LaFosse and Alexander have built up an enviable reputation for producing top quality origami products, carefully and expertly crafted for folders of all levels. Their work is an inspiration."—Nick Robinson, author of Origami Kit For Dummies and World's Best Origami

"These pages present a kaleidoscope of colorful origami butterflies. The authors uphold the philosophy of Akira Yoshizawa sensei, who opened LaFosse's eyes to origami's endless possibilities, which you can now also explore."—Dave Brill, former president of the British Origami Society, and author of Brilliant Origami

"LaFosse and Alexander have observed and passionately captured the essence of the butterfly with their exceptional designs. These magnificent butterflies undergo their metamorphosis in the authors' hands."—Reiko Nishioka, director of education at the Morikami Museum and Japanese Gardens
Tuttle Publishing, 9784805312261, 112pp.
Publication Date: April 30, 2013
About the Author
Michael G. LaFosse has been an origami artist for decades and is considered a leading authority and master of the art. An avid teacher, LaFosse co-founded the Origamido Studio, a learning center and design studio dedicated to the art of origami, and the only place in the world specializing in hand papermaking for the origami artist. LaFosse co-curated Origami Now!, a wildly popular, year-long exhibition at the Peabody Essex Museum in Salem, Massachusetts. He was also prominently featured in the recent, Peabody Award-winning film, Between the Folds, by Vanessa Gould. Richard L. Alexander co-founded the Origamido Studio with Michael G. LaFosse in 1996. He has been the chief papermaker since 2003 and is a frequent collaborator with other famous paper artists. Together, Alexander and LaFosse have created dozens of origami exhibitions, and over 70 books, kits and videos about paper and paper arts.