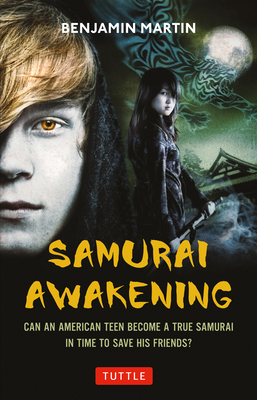 Samurai Awakening
(Samurai Awakening Book 1)
Hardcover

* Individual store prices may vary.
Other Editions of This Title:
Hardcover (10/18/2016)
Description
**Winner of the 2013 SCBWI Crystal Kite Award** David Matthews is having a rough time. Being a teenager is bad enough, but when he picks up and moves to Japan for a year, with barely any knowledge of the language or social behaviors of Japanese teenagers, things go from bad to worse. Until one day, David attends a temple ceremony and finds himself possessed by a Japanese god. Suddenly, he can understand and speak Japanese. He has unbelievable new powers, including the ability to shift into a tiger, and a powerful sword he can materialize at will from its sheath--his body. But nothing comes for free, and these changes bring David face-to-face with the most terrifying creatures of Japanese legend--vengeful okami, demonic oni and terrifying ghostly yurei. Trained by his host family, famous sword-makers and the keepers of an ancient secret entrusted to their family by the first Emperor of Japan, David must fight desperately to save his host sister from a hoard of Japanese monsters. Evil has returned to Japan, and David must overcome his own insecurities if he is to save her and become a True Samurai--the protector of Japan.
Praise For Samurai Awakening: (Samurai Awakening Book 1)…
"David is an engaging character whom readers will easily identify with as he struggles to overcome his own fears and doubts to find his inner strength. Although the book culminates in David saving a damsel in distress, Martin creates a strong female counterpart to David in the character of a female warrior. An imaginative take on the triumph of the underdog."—Booklist

"When a typical American boy spends a year in Japan on an exchange program, he's expected to have his mind opened to new experiences. In Samurai Awakening, young David Matthews achieves that and more—for a price. A new entry in the young adult paranormal category, Benjamin Martin uses Japanese culture and history to build quite a compelling tale."—McClatchy News Service

"Due to the authorÆs firsthand experience as an American living in Japan, David's feelings of isolation as he attempts to adjust to new surroundings ring true, as do the details of school life. Dialogue printed in Japanese characters adds a pleasing note of authenticity, and the novel's rural setting will appeal to readers who seek to know Japan beyond Tokyo."—School Library Journal

"Martin scrupulously details the elements of David's apprenticeship, and his familiarity with Japanese customs and myth lends verisimilitude [...]. Martin's writing is richest when conveying David's initial disorientation as an outsider in a new environment."—Publishers Weekly
Tuttle Publishing, 9784805312285, 320pp.
Publication Date: October 10, 2012
About the Author
Originally from Arizona, Ben Martin currently lives in Japan. He was a semi finalist in the 2011 Amazon Breakthrough Novel Contest with the manuscript for Samurai Awakening, which placed in the top 1% in the Young Adult category.
or
Not Currently Available for Direct Purchase