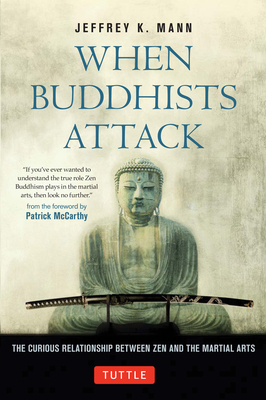 When Buddhists Attack
The Curious Relationship Between Zen and the Martial Arts
Hardcover

* Individual store prices may vary.
Description
Uncover the historical truth about Buddhist warrior monks with this informative and enlightening book. Film, television and popular fiction have long exploited the image of the serene Buddhist monk who is master of the deadly craft of hand-to-hand combat. While these media overly romanticize the relationship between a philosophy of non-violence and the art of fighting, When Buddhists Attack: The Curious Relationship Between Zen and the Martial Arts shows this link to be nevertheless real, even natural. Exploring the origins of Buddhism and the ethos of the Japanese samurai, university professor and martial arts practitioner Jeffrey Mann traces the close connection between the Buddhist way of compassion and the way of the warrior. This zen book serves as a basic introduction to the history, philosophy, and current practice of Zen as it relates to the Japanese martial arts. It examines the elements of Zen that have found a place in budo--the martial way--such as zazen, mushin, zanshin and fudoshin, then goes on to discuss the ethics and practice of budo as a modern sport. Offering insights into how qualities integral to the true martial artist are interwoven with this ancient religious philosophy, this Buddhism book will help practitioners reconnect to an authentic spiritual discipline of the martial arts.
Praise For When Buddhists Attack: The Curious Relationship Between Zen and the Martial Arts…
"Mann's book…illustrates the intertwining of martial arts and Zen. Mann deftly braids the physical and the spiritual into a strong rope for the serious student to ascend. This book has simplicity and yet heft—it is brilliant."—Kris Wilder, author of The Way of Kata and The Little Black Book of Violence

"This book clearly shows us how the Japanese Budo spirit is related to religion. Specifically, the author explains the concept of mushin very well, a principle to which we Japanese attribute much importance in overcoming various difficulties."—Katsumi Shimane, Ph.D. Professor of Sociology Senshu University 3rd Dan Karatedo, Jodo

"I would like to congratulate the author on this book, which is based on both experience and research. I recommend it to all traditional martial artists and anyone interested in Japanese culture."—Tetsuji Nakamura, 6th Dan, International Okinawan Goju-Ryu Karate-Do Federation Vice Chief Instructor

"…an interesting and very informative overview of Zen Buddhism and its relation to martial arts. Dr. Mann's perspective as an academic and passionate practitioner of martial arts gives the work a personal tone and energY…It will appeal to avid practitioners of martial arts as well as to anyone interested in the development of Buddhism and its relation to Japanese culture."—Charlene P. E. Burns, Ph.D. Professor, Dept. of Philosophy & Religious Studies University of Wisconsin-Eau Claire
Tuttle Publishing, 9784805312308, 224pp.
Publication Date: October 10, 2012
About the Author
Jeffrey K. Mann earned his doctorate in Religious Studies from Vanderbilt University and is currently Chair of the Religious Studies Department at Susquehanna University. In addition, he has served as a Visiting Professor of Religion at Senshu University in Ikuta, Japan. A longtime student of Japanese martial arts, he has trained and competed in karate throughout North America, Japan, Okinawa and the Philippines. He is instructor of the Susquehanna Goju-ryu Karate-do Club, a school affiliated with the International Okinawan Goju-ryu Karate-do Federation