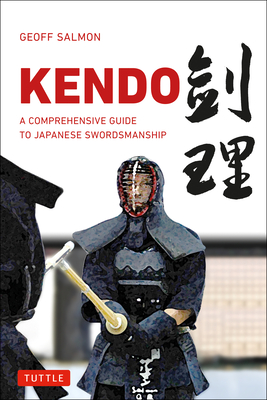 Kendo (Paperback)
A Comprehensive Guide to Japanese Swordsmanship
Tuttle Publishing, 9784805312315, 192pp.
Publication Date: May 7, 2013
* Individual store prices may vary.
Description
Master the art of Kendo--Japanese Swordsmanship with this illustrated and comprehensive martial arts guide. Kendo or the "Way of the Sword" holds a special place within the martial arts as one of the few practices tracing back directly to Japan's ancient samurai heritage. Modern students flock to kendo for physically--and mentally--challenging activity that combines traditional martial arts values with strenuous physical activity. Author Geoff Salmon has over 40 years of kendo experience gained in and outside of Japan. His goal in this kendo guide is to dispel many misconceptions about the sport and to make kendo training accessible and practical for anyone. His simple, straightforward writing style is especially helpful for beginning students and martial artists from other disciplines who wish to add kendo training to their repertoire. The core of this kendo book is a series of detailed instructional sequences demonstrating the basic kendo techniques. The author also presents the fundamental principles and philosophy that make kendo as much an exercise of the mind as of the sword. For many adherents, the goal is to train your mind to achieve a state of mushin (no-mind). Beyond that, this book also shows you how to win competitions and integrate kendo into your fitness routines. This is the first book to decidedly link the philosophical and mental elements of kendo to the physical techniques, thereby enabling readers to gain a holistic understanding of the martial art. It offers a comprehensive training program similar to those given by leading kendo teachers in Japan, past and present.
About the Author
Geoff Salmon holds the All Japan Kendo Federation rank of Kyoshi and the grade of 7th Dan and has competed regularly in the prestigious Kyoto Taikai competitions. He teaches kendo in the UK and Europe and has held a number of key posts including chairman of the British Kendo Association and manager of the British National Kendo Squad. He has refereed at the European Championships on numerous occasions and also at the recent World Championships. He writes regularly about kendo on his popular blog www.kendoinfo.net. Salmon spent three years living and training in Japan, dividing his time between the Osaka Shudokan and several dojos in Hyogo. He was fortunate to study directly with several great 2nd generation kendo teachers including Matsumoto Toshio, Hanshi 9th Dan. He visits Japan often to further his knowledge of this sport.