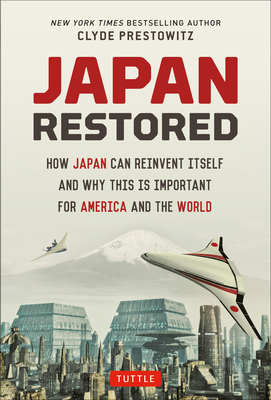 Japan Restored
How Japan Can Reinvent Itself and Why This Is Important for America and the World
Hardcover

* Individual store prices may vary.
Other Editions of This Title:
Hardcover (4/16/2019)
Description
How Japan Can Reinvent Itself and Why This Is Important for America and the World. In 1979, the book Japan as Number One: Lessons for America by Harvard University professor Ezra Vogel caused a sensation in the United States by pointing out that Japan was surpassing America as world economic leader; the book remains to this day the all-time bestseller in Japan of non-fiction by a Western author. The book was timely: Japan's subsequent bubble era of the 1980s saw the country booming. But since the economic bubble burst at the start of the 1990s, Japan has been in decline. Japan Restored by Clyde Prestowitz, taking up Vogel's baton, is written as a vision of Japan in the year 2050 when the country's economic recovery has made it a world leader in every area of human endeavor. Prestowitz looks back to the present year as such a low point for Japan that a special reform commission was set up that helped the country regain its former position as a leader in technology, in business, and geopolitically. Looking at education, innovation, the role of women, corporate organization, energy, infrastructure, domestic government, and international alliances Prestowitz draws up a fascinating and controversial blueprint for the future success of Japan. As the eyes of the world turn towards Japan in the run-up to the 2020 Olympics, Japan Restored is as timely as the 1979 Vogel book that inspired it.
Tuttle Publishing, 9784805313466, 288pp.
Publication Date: November 10, 2015
About the Author
New York Times Bestselling Author Clyde Prestowitz is a long time student of Japan who served as a lead negotiator with Tokyo in his position as Counselor to the Secretary of Commerce in the Reagan Administration. His first book, Trading Places: How We Allowed Japan to Take the Lead (Basic Books, 1989), revolutionized thinking about Japan's economic miracle and its relationship with the United States. Prestowitz is the founder and President of the Economic Strategy Institute in Washington. He served as Vice Chairman of President Clinton's Commission on Trade and Investment in the Asia-Pacific Region, as an advisor to the Export/Import Bank, as a member of Intel's Policy Advisory Committee, and as an advisor to the Center for Strategic and International Studies of Indonesia. Prestowitz has also been a blogger for Foreign Policy Magazine and is a prolific contributor to publications such as the Financial Times, New York Times, and L.A.Times. In addition to Trading Places, his books include: Rogue Nation, Basic Books 2003, Three Billion New Capitalists, Basic Books 2005, and The Betrayal of American Prosperity, Simon&Schuster, 2010. He resides in Washington D.C. and Maui.