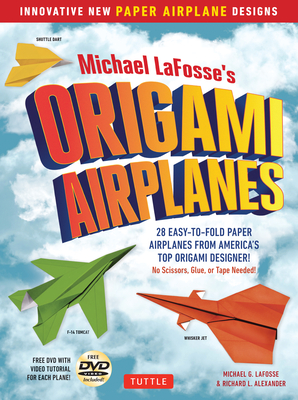 Michael LaFosse's Origami Airplanes (Mixed media product)
28 Easy-to-Fold Paper Airplanes from America's Top Origami Designer!: Includes Paper Airplane Book, 28 Projects and DVD
Tuttle Publishing, 9784805313602, 96pp.
Publication Date: March 29, 2016
* Individual store prices may vary.
Description
**2017 Creative Child Magazine Book of the Year Award Winner**Make the best paper airplanes around with this easy-to-follow origami book.
Enthralled with origami from a young age, world-renowned origami and paper crafter Michael LaFosse has used those skills to design and perfect paper airplanes for decades. In
Michael Lafosse's Origami Airplanes
, LaFosse presents 28 original paper origami models that incorporate innovative functional and aesthetic details like faceted flaps, ailerons, canards and spoilers that really work. The sense of proportion and balance, and an ingenious nose and fuselage locking system, define these signature models, which are instant classics. Readers accustomed to folding simple darts and wings will be thrilled and challenged by the folding maneuvers in these pages.
Michael Lafosse's Origami Airplanes comes with great value—included are:
28 fun-to-do projects
Step-by-step instructions
Expert tips on techniques and folds
Easy-to-follow DVD video tutorials
Videos are also streamable or downloadable online
Great for paper airplane enthusiasts as well as fans of unique origami works and parents with kids. Scissors, tape, glue are not required! In addition to teaching the skills to create the planes, this unique paper craft book provides expert advice on:
How to select and prepare the best folding paper for each plane.
How to balance aesthetics, performance and fun when designing your own planes.
Helpful tips on control surfaces, and how to manipulate them for the best flights.
Tips on launching different types of planes to get the best possible glide.
A discussion of aerodynamics and how it relates to paper airplane performance.
Paper airplane models include:
Lock Nose Dart
Flying Fox
Shuttle Dart
F-102 Delta Jet
Nifty Fifty
And many more…
About the Author
Michael G. LaFosse decided he would be an origami artist in 1971, after reading (and re-reading) a Readers' Digest article by Leland Stowe, about the amazing folded art of Japanese Master Akira Yoshizawa. Michael's uncle Norman had folded paper airplanes with him when Michael was a toddler, and his dad, Jerry LaFosse, was a photographer in the US Air Force. LaFosse burst onto the paper airplane scene in 1984 with his self-published pamphlet, "Aero-gami: F-14 Tomcat Fighter." A biologist by training, he went on to become one of the most celebrated natural history origami artists, making his own handmade papers and creating hundreds of designs now seen in exceptional exhibitions and published in dozens of books, kits, and videos.

Richard L. Alexander was caught up in the ultralight aviation craze in the mid-1980s and built a fiberglass / foam / graphite / Kevlar composite, retractable gear, amphibious, canard airplane from a kit (the XTC Hydrolight, designed by Dan Diehl, of Jenks, OK). He met LaFosse in 1988, and together they have produced exhibitions and publications about paper art and origami. Alexander has worked with LaFosse full time since 2003, and since then has made all of the Origamido handmade paper. Alexander also teaches and designs origami, while being responsible for photography, videography, commercial projects and managing the Origamido Studio gallery spaces and exhibitions.
Praise For Michael LaFosse's Origami Airplanes: 28 Easy-to-Fold Paper Airplanes from America's Top Origami Designer!: Includes Paper Airplane Book, 28 Projects and DVD…
"Fly faster and farther with some of the best-looking and most-ingenious paper airplanes ever designed! LaFosse and Alexander's unique fuselage lock is origami magic, and they are a pleasure to fold." —Jeffrey Rutzky, author of Awesome Paper Planes

"This is a marvelous collection of designs that are fun to fold and easy to fly, clearly explained by one of the great modern masters of the origami art." —Robert J. Lang, author of Origami Design Secrets

"LaFosse and Alexander have built up an enviable reputation for producing top quality origami products, carefully and expertly crafted for folders of all levels. Their work is an inspiration to fellow authors like myself and Planes For Brains is no exception—page after page of exemplary origami planes, beautifully explained and illustrated." —Nick Robinson, author or Origami For Dummies and World's Best Origami

"Michael is the Wayne Gretzky of origami." —Guy Kawasaki, author of Enchantment and former Chief Evangelist of Apple

"There are so many cute plane ideas that can be created…The directions are simple, step by step. The photos are easy to follow…" —Test Try Results blog

"…there are twenty-eight instructions to make fun and unique airplanes. The instructions have pictures as well as words. They are pretty easy to follow. It is a fun book." —Crafty Mom's Share

"…if origami is your thing, try Michael LaFosse's Origami Airplanes. It includes a DVD and instructions for 28 origami paper airplane projects." —All Done Monkey blog