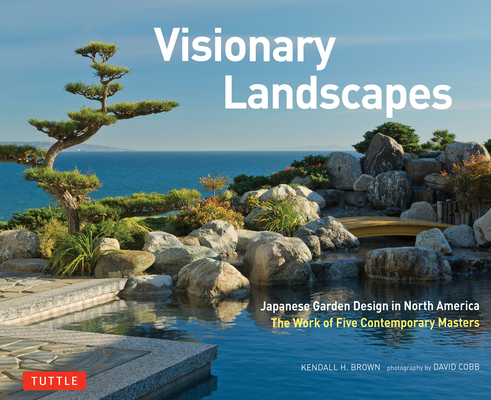 Visionary Landscapes
Japanese Garden Design in North America, The Work of Five Contemporary Masters
Hardcover

* Individual store prices may vary.
Other Editions of This Title:
Hardcover (3/24/2020)
Description
Japanese gardens are found throughout the world today—their unique forms now considered a universal art form. This stunning Japanese gardening book examines the work of five leading landscape architects in North America who are exploring the extraordinary power of Japanese-style garden design to create an immersive experience promoting personal and social well-being.
Master garden designers Hoichi Kurisu, Takeo Uesugi, David Slawson, Shin Abe and Marc Keane have each interpreted the style and meaning of the Japanese garden in unique ways in their innovative designs for private, commercial and public spaces. Several recent Japanese-style gardens by each designer are featured in this book with detailed descriptions and sumptuous color photos.
Hoichi Kurisu—transformative spaces for spiritual and physical equilibrium.
Takeo Uesugi—bright, flowing gardens that evoke joyful living.
David Slawson—evocations of native place that fuse with the surrounding landscape.
Shin Abe—dynamically balanced "visual stories" that produce meaning and comfort.
Marc Keane—reflections on human connections with nature through the art of gardens.
Also included are essays on the designers and mini-essays by them about gardens in Japan which have most inspired their work, as well as commentaries by patrons and visitors to their North American gardens.
The book focuses on recently-created gardens to suggest how the art form is currently evolving, and to understand how Japanese garden design principles and practices are being adapted to suit the needs and ways of people living and working outside Japan today.
Praise For Visionary Landscapes: Japanese Garden Design in North America, The Work of Five Contemporary Masters…
"Profusely and beautifully illustrated throughout, Visionary Landscapes focuses on recently-created gardens to suggest how the art form is currently evolving, and understanding Japanese garden design principles and practices. Informed and informative, Visionary Landscapes is a delight to browse through and will prove to be an enduringly popular addition to personal, professional, community, and academic library Gardening & Horticultural collections in general, and Japanese Gardens supplemental studies reading lists in particular." —Midwest Book Review

"Visionary Landscapes caters to gardeners who treat horticulture as a craft or artistry, but also serves as an eye-opening piece for the average reader … It's refreshing to read from an author so passionate about his subject." —Washington Gardener magazine

"In Visionary Landscapes: Japanese Garden Design in North America, Kendall H. Brown explores the work of five contemporary Japanese-style garden designers whom he has designated masters of the art … Several of the book's featured designers evoke Japanese landscape painting in their work." —American Society of Landscape Architects

"Many of us think of Japanese gardens as serene but rigid. This new book showcases the work of five leading landscape architects adapting traditional Japanese design principles to the unique characteristics of North America to create spaces connecting us to nature, even in the midst of a noisy city. The design styles range from classic to contemporary." —Succulents and More blog

"Visionary Landscapes: Japanese Garden Design in North America is an excellent introduction to the history and art of blending Japanese-inspired design ideas into urban and rural gardens on this continent; a beautiful book and a great gift for the gardener on your list who is looking for a bit of contemporary, Japanese-style landscape inspiration." —The Gardener's Eden blog

"While delving into many aspects of Japanese design principles, culture, religion, and philosophy, Kendall Brown's writing is easily accessible to lay people who only have a passing interest in Japanese gardens. David Cobb's exquisite photographs transport us right into gardens featured in the book." —Succulents and More blog
Tuttle Publishing, 9784805313862, 128pp.
Publication Date: October 31, 2017
About the Author
Kendall H. Brown is Professor of Asian Art History at California State University, Long Beach. He recently served as Curator of Collections, Exhibitions and Programs at the Pacific Asia Museum. He received BA and MA degrees in history and art history from the University of California, Berkeley, and a PhD in art history from Yale University. Dr Brown publishes actively in various areas of Japanese art. He is a leading figure in the study of Japanese gardens in North America, and he is the author of Japanese-style Gardens of the Pacific West Coast and Quiet Beauty: The Japanese Gardens of North America

Photographer David M. Cobb is a member of NANPA (North American Nature Photography Association) and PPA (Professional Photographers of America). He lives in the Pacific Northwest with his wife and their two cats.