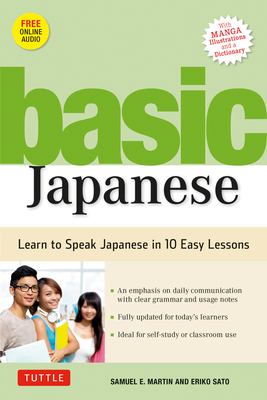 Basic Japanese
Learn to Speak Japanese in 10 Easy Lessons (Fully Revised and Expanded with Manga Illustrations, Audio Downloads & Jap
Paperback

* Individual store prices may vary.
Other Editions of This Title:
Paperback (10/10/2012)
Description
An introduction to the Japanese language through common, everyday sentences. This bestselling Japanese textbook is a user-friendly guide for beginners designed for use either in a classroom or self-study. It adopts a very different approach from other Japanese books--teaching you the underlying sentence structures and patterns of Japanese along with essential vocabulary and phrases so you can attain basic fluency quickly. The emphasis is on acquiring a working knowledge of simple, often-used Japanese sentences. This new edition has been thoroughly updated and expanded to reflect the way the language is actually spoken in Japan today. Manga drawings have been added to each dialogue to help with recall. Along with the latest jargon for the internet, social media, cellphones and IT, a bidirectional dictionary is included at the back. Each self-contained lesson presents a simple four-step method: Step 1: Basic Sentences: Each lesson begins with a few simple sentences. Essential Japanese vocabulary and phrases are learned within the context of these sentences. Audio recordings by native speakers are included in the free CD and are also available for download from Tuttle Publishing's website. Step 2: Communication Notes: A detailed discussion of each sentence follows to assist you in understanding the underlying structure and how to form new sentences based on the same pattern. Step 3: Everyday Conversations: Authentic dialogues with manga illustrations and native-speaker recordings show you how people communicate naturally in Japan today through simple, everyday interactions. Step 4: Exercises: Several sets of easy exercises help reinforce your understanding of the key points presented in the lesson and review what you have learned so you can move on to the next one. All disc content is alternatively accessible on tuttlepublishing.com/downloadable-content.
Tuttle Publishing, 9784805313909, 384pp.
Publication Date: November 14, 2017
About the Author
Samuel E. Martin was a master teacher of the Japanese language and a major force in language learning in the postwar U.S. He received his undergraduate and master's degrees in oriental languages from the University of California at Berkeley and his Ph.D. in linguistics from Yale University. At Yale he served as chairman of the Department of East and South Asian Languages and Literatures and the Department of Linguistics. He is the author of numerous books and papers on Japanese and Korean, including the definitiveA Reference Grammar of Japanese and A Reference Grammar of Korean. Eriko Sato is Associate Professor of Japanese and translation studies at the State of University of New York at Stony Brook, where she is also the Director of the Japanese Teacher Education Program. She has authored and co-authored over a dozen books, including Japanese Stories for Language Learners, Essential Japanese Grammar and Learning Japanese Kanji. She has also authored or co-authored Contemporary Japanese, Japanese Demystified, Japanese for Dummies, Complete Japanese Grammar, Japanese Phrases for Dummies, Basic Japanese and My First Japanese Kanji Book.