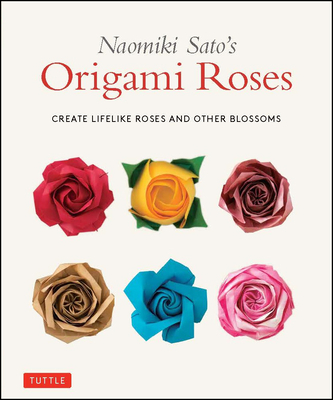 Naomiki Sato's Origami Roses (Paperback)
Create Lifelike Roses and Other Blossoms
Tuttle Publishing, 9784805315200, 108pp.
Publication Date: September 24, 2019
* Individual store prices may vary.
Description
Decorate your desk, home, wedding or next get-together with these professional looking paper blossoms This stunning book presents detailed instructions for eleven elegant and lifelike paper flower projects that will enhance any home or occasion. Paper flower expert Naomiki Sato starts by showing you how to fold seven types of paper roses using a variety of techniques for four- and five-sided blossoms, along with their stems, thorns and leaves, and how to assemble them. Four equally exciting papercraft projects follow, showing you how to make Japanese Cherry Blossoms, Bellflowers, tropical Plumeria (Frangipani) and Bougainvillea. Each of the eleven projects has detailed step-by-step photographs, diagrams and instructions that make these sophisticated-looking blossoms easy to make even for beginning origami folders. The book includes basic guides to paper and tools, as well as an introduction to basic origami folding techniques for novices.
About the Author
Naomiki Sato grew up on a university campus in rural Japan, where his father was a professor specializing in fruit studies. Sato's interest in his father's work, coupled with a love of art and drawing, gave birth to a lifelong passion for creating nature-themed works of origami, particularly flowers, and especially roses. He currently lives in France, where he is a member of the French Origami Society. His fame as a creator of lifelike paper roses is spreading around the world as witnessed by the increasing number of YouTube videos where fans around the world share their own versions of Sato's creations.