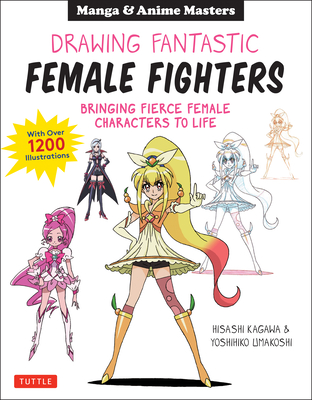 Drawing Fantastic Female Fighters (Paperback)
Manga & Anime Masters: Bringing Fierce Female Characters to Life (with Over 1,200 Illustrations)
Tuttle Publishing, 9784805315842, 176pp.
Publication Date: April 14, 2020
* Individual store prices may vary.
Description
Two experienced Japanese manga artists show you how to create dynamic female fighters--human, superhuman and otherwise
Contains over 1200 illustrations with hundreds of tips and techniques from professional manga artists
Interviews with the artists provide insights into their drawing techniques, design and creative process
Dozens of sidebars supplement the lessons with pointers and helpful tips including missteps and bad habits to avoid
Offers in-depth drawing tutorials for seven different battle heroines
Special columns offer specific advice on how to make your heroines more expressive in various different situations
A final spread offers an insider's look into each artist's studio
About the Author
After graduating from Osaka Art College, Hisashi Kagawa joined the Studio Cockpit, where he worked on Sailor Moon and The Girl Revolution Utena. He is currently the drawing director and in charge of character design and development for Fresh Pretty Cure! and Soul Eater and in recent years has contributed to the character design of Tiger Mask W. This is his first publication in English. Yoshihiko Umakoshi is the animation director and a character developer for My Hero Academia. He was one of the developing animators of Super Bikkuriman and oversaw character design for Grappler Baki. He received the 10th Tokyo Anime Award Individual Category Character Design Award for Heart Catch Precure!