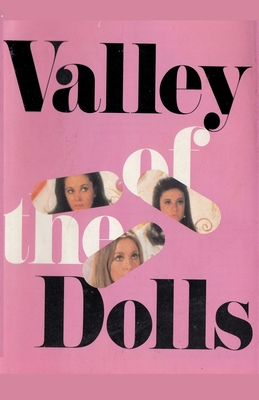 Valley of the Dolls
Paperback

* Individual store prices may vary.
Other Editions of This Title:
Paperback (7/4/2016)
Hardcover (7/4/2016)
Paperback (9/22/1997)
Paperback, Chinese (6/1/2018)
Paperback, Chinese (9/29/2018)
Description
Valley of the Dolls is the first novel by American writer Jacqueline Susann. Published in 1966, the book was the biggest selling novel of its year. To date, it has sold more than 31 million copies, making it one of the best-selling works in publishing history. In 1945, beautiful ingenue Anne Welles moves to New York to start a new life, seeking to escape the ennui of her hometown of Lawrenceville, Massachusetts. She quickly finds employment as a secretary at a talent agency, working under Henry Bellamy, and befriends neighboring girl Neely O'Hara, an ebullient vaudevillian and aspiring stage actress. When the nephew of Henry's partner, theatrical attorney Lyon Burke, returns from the war to the agency, Anne quickly befriends and falls in love with him despite already casually dating an apparent small-time salesman, Allen Cooper. Anne is warned, especially by Henry, not to get involved with Lyon, a known heart breaker. After a short period of dating, Allen reveals to her that he is secretly a millionaire testing her feelings for him, and that he is in love with her, before proposing to her. Despite Anne's protests that she does not want to marry him, Allen alerts the media, and the apparent love story becomes a sensation. Anne befriends Helen Lawson, a brilliant but ruthless Broadway legend, who Anne is drawn to due to her apparent vulnerability and loneliness. Neely and her familial troupe are hired onto Helen's latest production, but Helen takes a dislike to Neely and minimizes her role. Anne uses her friendship with Helen and Lyon to secure Neely a bigger role, and Neely becomes a breakout star; however, Helen cruelly rejects Anne when she reveals that she was only interested in Anne's friendship for the chance at a sexual relationship with Allen's father. Anne also ends up befriending Jennifer North, a kind-hearted actress famous for her attractive figure who is also involved in the production. Jennifer is having her marriage annulled to an impoverished foreign prince, and Anne assists in securing her annulment. On the night of the show's opening, Anne and Lyon consummate their feelings, and Anne and Allen finally break up. Anne moves in with Lyon and sells Allen's engagement ring, investing the money with Henry's help on Jennifer's advice. The production is a massive success, and Neely enjoys a meteoric rise to fame and moves to California with her new husband to begin a film career. Anne's mother dies and she returns to Lawrenceville with Lyon, who wants the two of them to live in the inherited house so that he can start his career as a novelist. Though Anne loves Lyon and wants to be with him, she refuses to live in Lawrenceville and leave New York; Lyon, unwilling to be supported by her, breaks up with her and moves back to England to write, leaving Anne heartbroken. Though Anne takes years to move on, she eventually becomes the face of older, wealthy Kevin Gillmore's line of beauty products, and starts a relationship with Kevin.
Ishi Press, 9784871870719, 458pp.
Publication Date: July 30, 2020
or
Not Currently Available for Direct Purchase