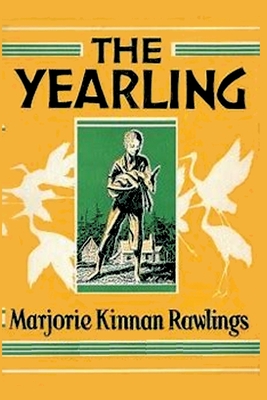 The Yearling
Paperback

* Individual store prices may vary.
Other Editions of This Title:
Paperback (9/1/2001)
Paperback (5/22/2019)
Paperback (4/2/2002)
Prebound (9/1/2001)
Paperback (1/1/1930)
Audio Cassette, Abridged, Abridged (9/1/1995)
Description
Young Jody Baxter lives with his parents, Ora and Ezra "Penny" Baxter, in the animal-filled central Florida backwoods in the 1870s. His parents had six other children before him, but they died in infancy, which makes it difficult for his mother to bond with him. Jody loves the outdoors and his family. He has wanted a pet for as long as he can remember, but his mother says that they barely have enough food to feed themselves, let alone a pet. A subplot involves the hunt for an old bear named Slewfoot that randomly attacks the Baxter livestock. Later the Baxters and the Forresters get in a fight about the bear and continue to fight about nearly anything. (While the Forresters are presented as a disreputable clan, the disabled youngest brother, Fodder-Wing, is a close friend to Jody.) The Forresters steal the Baxters' hogs and, while Penny and Jody are out searching for the stolen stock, Penny is bitten in the arm by a rattlesnake. Penny shoots a doe, orphaning its young fawn, in order to use its liver to draw out the snake's venom, which saves Penny's life. Jody convinces his parents to allow him to adopt the fawn " which, Jody later learns, Fodder-Wing has named Flag " and it becomes his constant companion. The book then focuses on Jody's life as he matures along with Flag. The plot centers on Jody's struggles with strained relationships, hunger, death of beloved friends, and the capriciousness of nature through a catastrophic flood. He experiences tender moments with his family, his fawn, and their neighbors and relatives. Along with his father, he comes face to face with the rough life of a farmer and hunter. Throughout, the well-mannered, God-fearing Baxters and the good folk of nearby Volusia and the "big city," Ocala, are starkly contrasted with their hillbilly neighbors, the Forresters. As Jody takes his final steps into maturity, he is forced to make a desperate choice between his pet, Flag, and his family. The parents realize that the growing Flag is endangering their very survival, as he persists in eating the corn crop on which the family is relying for their food the next winter. Jody's father orders him to take Flag into the woods and shoot him, but Jody cannot bring himself to do it. When his mother shoots the deer and wounds him, Jody is then forced to shoot Flag in the neck himself, killing the yearling. In blind fury at his mother, Jody runs off, only to come face to face with the true meaning of hunger, loneliness, and fear. After an ill-conceived attempt to reach an older friend in Boston in a broken-down canoe, Jody is picked up by a mail ship and returned to Volusia. In the end, Jody comes of age, assuming increasingly adult responsibilities in the difficult "world of men", but always surrounded by the love of family. Characters Ezra "Penny" Baxter was raised by a stern minister who allowed no leisure or slacking. He treats his son Jody generously because of his own upbringing. He served in the army during the Civil War. Nicknamed "Penny" by Lem Forrester because of his diminutive size.
Ishi Press, 9784871870948, 390pp.
Publication Date: May 19, 2020
or
Not Currently Available for Direct Purchase