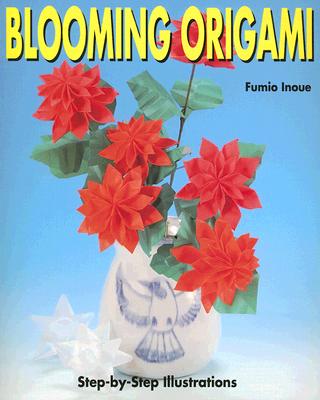 Blooming Origami: (Paperback)
Kodansha, 9784889961966, 104pp.
Publication Date: April 21, 2006
* Individual store prices may vary.
Description
Blooming Origami offers easy-to-follow and perfectly logical instructions that enable readers to create twenty-nine different 3-dimensional flowers by folding square origami paper into pentagons, hexagons and octagons. The flowers are presented by season, so, for example, in the spring, readers will learn to make the cherry blossom, dogwood, pansy, violet, sweet, pea, lily-of-the-valley, climbing rose and hydrangea, among others; in summer, the morning glory, clematis, bougainvillea, lily, sunflower and dahlia; in fall, the gentian and chrysanthemum; while the narcissus, camellia, Adonis, tree peony, Kaffir lily and orchid can be found in the winter collection. The flowers themselves require no scissors or adhesive to make. Then with some floral tape and wire, they can be combined into beautiful arrangements, bouquets and even interior decorations. The designs in Blooming Origami, which are shown in vivid, full-color photographs, are more stylized in the way of traditional Japanese origami flowers. Renowned artist Fumio Inoue's motto is "origami from hand to hand," which describes his mission to pass on to others, by demonstrating with his own hands, his art and ideas. Ever since his childhood in Tokyo, he has been passionate about origami paper folding. In 1970, he began creating innovative designs of his own to complement the traditional styles he loved so well. Now, in Blooming Origami, he shares his love for the craft by guiding even less experienced origamists in fashioning these glorious flowers for all seasons.
About the Author
FUMIO INOUE is Chairman of the Tokyo Origami-kai Society. He has introduced origami to young and old through lectures, demonstrations and workshops throughout Japan and around the world, including the United States. He has appeared on television in Japan and been featured in newspaper articles.
or
Not Currently Available for Direct Purchase