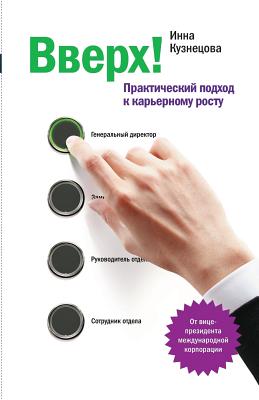 Up! the Practcal Approach to Career Growth (Paperback)
Mann, Ivanov and Ferber, 9785916571448, 284pp.
Publication Date: December 7, 2010
* Individual store prices may vary.
Description
Do you have an aspiration to grow in your career? Are you worried preparing for an interview questions? Dealing with bad bosses or coworkers who do not like you? There are very few books about career growth in Russia, even less written by the authors of Russian origin willing to share the lessons learned on their way up. The author of this book was the first Vice President of Russian origin in IBM headquarters and later moved to an executive board position in one of the leading companies in logistics. The book is half-advice, half-memoir, sharing the story of her personal growth with a special attention to the details of Russian mentality meeting the realities of the global business environment.
About the Author
Inna Kuznetsova Chief Commercial Officer, CEVA Logistcs Ms. Inna Kuznetsova joined CEVA Logistics, the leading global logistics company, in January of 2012. As the Chief Commercial Officer she heads the global sales organization and serves as a member of the Executive Board. Prior to joining CEVA Ms. Kuznetsova spent over 18 years in IBM. In her last role she was the Vice President, Marketing & Sales, Systems Software and built sales and marketing organizations for the newest product line in IBM Systems and Technology group. Prior to that she held a number of executive and managerial positions in sales, marketing and business development associated with areas of new or rapidly growing businesses. Ms Kuznetsova started her career in IBM in Moscow in 1993 and moved to the US in the end of 1996. In 2010 she became an author of a bestselling career book in Russian (Up! Practical approach to career growth - Mann, Ivanov and Ferber, Russia, 2011). She was profiled by Forbes in Russia in June 2011 as the first VP of Russian origin in IBM headquarters and interviewed on the subject of career by Glamor, CEO, Vedomosti and other leading publications. Ms. Kuznetsova holds PhD. in Mathematics from Moscow State University, Russia, and MBA from Columbia Business School.