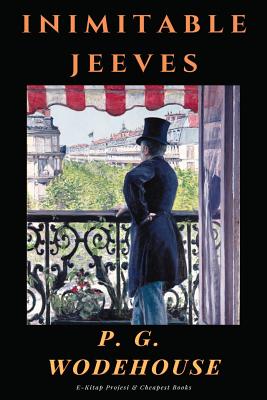 Inimitable Jeeves
Paperback

* Individual store prices may vary.
Other Editions of This Title:
Paperback (11/27/2020)
Paperback (12/20/2019)
Paperback (5/26/2020)
Paperback (4/12/2021)
Paperback (1/27/2017)
Paperback (4/18/2020)
Paperback (6/16/2019)
Paperback (5/30/1923)
Paperback (6/18/2019)
Paperback (8/17/2019)
Hardcover (5/17/1923)
Hardcover (3/4/2020)
Paperback (3/4/2020)
Paperback (5/22/2019)
Paperback (9/15/2019)
Hardcover (5/10/2007)
Paperback (7/5/2011)
Description
Inimitable Jeeves is a semi-novel collecting Jeeves stories by P. G. Wodehouse.
The novel combined 11 previously published stories, of which the first six and the last were split in two, to make a book of 18 chapters. It is now often printed in 11 chapters, mirroring the original stories.
All the stories had previously appeared in The Strand Magazine in the UK, between December 1921 and November 1922, except for one, "Jeeves and the Chump Cyril", which had appeared in the Strand in August 1918. That story had appeared in the Saturday Evening Post (US) in June 1918. All the other stories appeared in Cosmopolitan in the US between December 1921 and December 1922.
This was the second collection of Jeeves stories, after My Man Jeeves(1919); the next collection would be Carry On, Jeeves, in 1925. All of the short stories are connected and most of them involve Bertie's friend Bingo Little, who is always falling in love.
Contents
The original story titles and publication dates were as follows (with split chapter titles in parentheses):
"Jeeves in the Springtime" -- Bertie's friend Bingo is in love with a waitress, Mabel, but fears his uncle won't approve of her. Jeeves suggests a plan using romance novels to sway Bingo's uncle.

UK: Strand, December 1921
US: Cosmopolitan, December 1921
("Jeeves Exerts the Old Cerebellum" and "No Wedding Bells for Bingo")
"Aunt Agatha Takes the Count" -- Aunt Agatha pushes an unwilling Bertie to marry a girl named Aline Hemingway, who, along with her brother Sidney, appears to be quiet and respectable.

UK: Strand, April 1922
US: Cosmopolitan, October 1922 (as "Aunt Agatha Makes a Bloomer")
("Aunt Agatha Speaks Her Mind" and "Pearls Mean Tears")
E-Kitap Projesi & Cheapest Books, 9786057876072, 272pp.
Publication Date: May 17, 1923