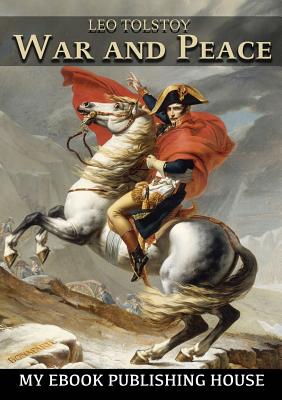 War and Peace (Paperback)
Volume 2 of 2
SC Active Business Development Srl, 9786069831694, 860pp.
Publication Date: April 14, 2017
Other Editions of This Title:
Digital Audiobook (12/31/2005)
Paperback (1/16/2013)
Paperback (12/7/2009)
Paperback (12/23/2016)
Paperback (6/7/2016)
Paperback (12/1/2016)
Paperback (12/2/2008)
Paperback (11/3/2017)
Paperback (12/8/2014)
Paperback (10/10/2018)
* Individual store prices may vary.
Description
A stunning edition of Tolstoy's great novel, one of the undisputed masterpieces of world literature
"The last word of the landlord's literature and the brilliant one at that." --Fyodor Dostoyevsky
"The best ever Russian historical novel." --Nikolai Leskov
"One of the most remarkable books of our age." --Ivan Turgenev
"This is the first class work ... This is powerful, very powerful indeed." --Gustave Flaubert
"The best novel that had ever been written." --John Galsworthy
"This work, like life itself, has no beginning, no end. It is life itself in its eternal movement." --Romain Rolland
"The greatest ever war novel in the history of literature." --Thomas Mann
"There remains the greatest of all novelists -- for what else can we call the author of 'War and Peace'?" --Virginia Woolf
"Tolstoy is the greatest Russian writer of prose fiction." --Vladimir Nabokov
War and Peace broadly focuses on Napoleon's invasion of Russia in 1812 and follows three of the most well-known characters in literature: Pierre Bezukhov, the illegitimate son of a count who is fighting for his inheritance and yearning for spiritual fulfillment; Prince Andrei Bolkonsky, who leaves his family behind to fight in the war against Napoleon; and Natasha Rostov, the beautiful young daughter of a nobleman who intrigues both men.
As Napoleon's army invades, Tolstoy brilliantly follows characters from diverse backgrounds--peasants and nobility, civilians and soldiers--as they struggle with the problems unique to their era, their history, and their culture. And as the novel progresses, these characters transcend their specificity, becoming some of the most moving--and human--figures in world literature.