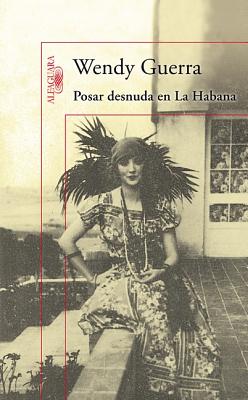 Posar desnuda en La Habana (Paperback)
Alfaguara, 9786071113085, 208pp.
Publication Date: September 1, 2011
* Individual store prices may vary.
Description
«Un hermoso homenaje a Anaïs Nin que convierte a Wendy Guerra en su heredera contemporánea.» Camille Tenneson, Nouvel Observateur Es 1922. Anaïs Nin viaja a Cuba tras el rastro de un padre ausente e idealizado, en busca de su familia. Tiene 19 años y se ha comprometido con Hugo Guiler, un rico banquero cuyos padres se oponen a que su hijo se case con una latina católica y morena. Él está en Europa meditando sobre la decisión que habrá de tomar. Ella, de vuelta en la entrañable ciudad de sus padres tras haber vivido en Estados Unidos, escribe el diario por el que será conocida. A partir de las alusiones en éste a aquel periodo, Wendy Guerra imagina lo que Anaïs pudo sentir al llegar a la isla, sus dudas sobre la conveniencia de casarse, sus deseos de ser escritora y vivir en París y su determinación de ser una mujer libre, guiada sólo por la cadencia de su deseo. «Proyecté un apócrifo de sus líneas vacías a partir de un diario casi virgen que reescribo hoy de memoria, con los ojos cerrados y puño firme. Poseída por sus testimonios. Vivimos épocas distintas, pero acabamos encontrándonos en La Habana.» ENGLISH DESCRIPTION In 1922 Anaïs Nin travels to Cuba. The 19-year old is engaged to be married to a rich banker, a union his parents are opposed to. Although only nine entries were actually written in Cuba, after her sojourn in her parents' beloved city Anaïs writes the diary that will make her famous. Using references from this period, Wendy Guerra imagines what Anaïs may have felt on arriving to Cuba. Her misgivings on the idea of marriage, her dreams of becoming a writer living in Paris, and her resolve to live guided only by the cadence of her desire.
About the Author
Wendy Guerra se graduó de Dirección de Cine, en la especialidad de guion, en el Instituto Superior de Arte de La Habana. Su novela Todos se van recibió el Premio Bruguera, el Premio de la Crítica de El País y el Premio Carbet des Lycéens. En Alfaguara ha publicado Posar desnuda en La Habana.
or
Not Currently Available for Direct Purchase