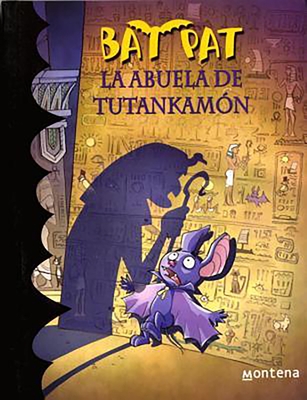 Bat Pat. La Abuela de Tutankamon 3 (Paperback)
Montena, 9786073103800, 118pp.
Publication Date: January 15, 2013
Description
En el museo de Fogville se acaba de inaugurar una exposicion sobre la civilizacion egipcia. A Bat Pat le fascina el tema, asi que convence a los hermanos Silver para que le acompanen a verla. Lo que no sabe es que la momia de una famosa reina esta a punto de... ABRIR LOS OJOS Con esta nueva aventura de BAT PAT, el murcielago detective, te troncharas de risa y temblaras de miedo Hi I'm Bat Pat and I will tell you a very, very scary story... are you ready? When I heard that the museum at Fogville was opening an exhibit on Ancient Egypt, I was so excited I was dying to see a real mummy with my own eyes, so I convinced my brother Silver to go with me to the opening. But what I did not know was that the mummy was alive and well and, as luck would have it, hated bats How scary.
About the Author
Roberto Pavanellonacio en Milan en 1958. Es profesor de italiano en un instituto de educacion secundaria y colaborador del IRRE, el Instituto Regional de Investigacion Educativa. Ha trabajado como consultor para diferentes editoriales italianas, elaborando planes lectores y, desde el ano 1990, desarrolla actividades de animacion a la lectura, tanto para adultos como para ninos. Tambien es autor de libros infantiles, entre los que destaca la serie la serie Bat Pat, traducida ya a mas de 5 idiomas."
Advertisement