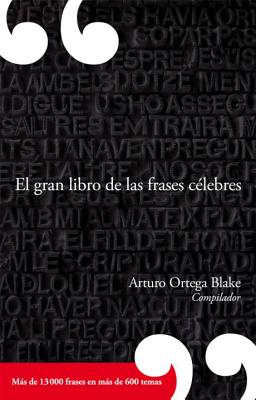 El gran libro de las frases célebres
Paperback

* Individual store prices may vary.
Description
A partir de un esmerado cuidado en la selección y la edición, esta compilación reúne más de 13,000 frases y abarca cientos de temas, que en su conjunto representan una forma eficaz y contundente de transmitir el conocimiento de todos los tiempos. Algunas con más de tres mil años de antigüedad, estas frases siempre serán vigentes y sólo sucumbirán con la humanidad misma. Sin duda, se trata de un libro que dejará una huella permanente en quien descubra sus páginas." ENGLISH DESCRIPTION The vast universe of knowledge available to all.
Grijalbo, 9786073114073, 656pp.
Publication Date: July 16, 2013
About the Author
Arturo Ortega Blake estudió en la Facultad de Economía de la UNAM. Realizó estudios de planeación en la ONU y en La Haya, Holanda. Ha impartido clases en la Universidad Nacional Autónoma de México, la Universidad Veracruzana, la Universidad del Estado de México, la Universidad de Guanajuato, entre otras. Ha desempeñado diversos cargos públicos en el Gobierno federal y en la Organización de las Naciones Unidas. Ha obtenido premios literarios internacionales en España, Uruguay, Argentina, México y Brasil, en los géneros de cuento y novela corta. Es compilador de Diccionario de planeación y planificación, Diccionario de planificación económica, Antología de frases latinas; del libro Planeación, la opción al cambio, y de Frases célebres de todos los tiempos. Es autor de las novelas Frontera de papel. Tres hermanos en la guerra México-Estados Unidos; Ioannes Angelicus. La mujer que se convirtió en papa; Leif, el hijo de Erik. Los vikingos que descubrieron América en el siglo XI; La hacienda del diablo. La verdadera historia de El Endrino; y Nebra. Historia de los lectores de astros en la edad de bronce.

Para contactar al autor: buzonaob@yahoo.com
or
Not Currently Available for Direct Purchase