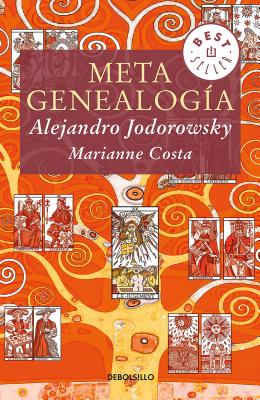 Metagenealogia
Paperback

* Individual store prices may vary.
Other Editions of This Title:
Hardcover (1/12/2016)
Paperback (5/18/2021)
Paperback (4/19/2017)
Hardcover (10/18/2016)
Paperback (10/24/2017)
Hardcover (1/28/2020)
Description
Un libro que enseña cómo estudiar y analizar nuestro árbol genealógico, para así poder entender nuestro pasado familiar y sanar nuestro presente. «Todo el mundo debería conocer su árbol genealógico. La familia es nuestro cofre del tesoro o nuestra trampa mortal.» La metagenealogía «no es estrictamente una terapia, sino un trabajo de toma de conciencia» del estado de salud del árbol genealógico en el que se ha nacido. La lectura de este libro y sus ejercicios ayudarán al lector a trabajar en su propio árbol, a tomar conciencia de la tradición familiar que pesa sobre él y a sanarlo desde el presente. ENGLISH DESCRIPTION A practical guide to recognizing and overcoming the patterns and influences of the four generations before you •; Provides exercises to uncover your family's psychological heritage, heal negative patterns of behavior and illness in your family tree, and discover your true self •; Explains how we are the product of two forces: repetition of familial patterns from the past and creation of new ideas from the Universal Consciousness of the future •; Interwoven with examples from Jodorowsky's own life and his work with the tarot, psychoanalysis, and psychomagic The family tree is not merely vital statistics about your ancestors. It is an embodied sense of self that we inherit from at least four prior generations, constituting both a life-giving treasure and a deadly trap. Each of us is both an heir of our lineage and a necessary variation that brings the family into new territory. Are you doomed to repeat the patterns of your parents and grandparents? Or can you harness your familial and individual talents to create your own destiny? In Metagenealogy, Alejandro Jodorowsky and Marianne Costa show how every individual is the product of two forces: the imitating force, directed by the family group acting from the past, and the creative force, driven by the Universal Consciousness from the future. Interweaving examples from Jodorowsky's own life and his work with the tarot, psychoanalysis, and psychomagic, the authors provide exercises, visualizations, and meditations to discover your family's psychological heritage and open yourself to the growth and creativity of Universal Consciousness. They reveal how identifying the patterns, emotional programming, and successes and failures of the four generations that influence you--your siblings, parents, aunts, uncles, grandparents, and great-grandparents--allows you to see beyond the stable identity formed by family lineage. It frees you to overcome your inherited subconscious patterns of behavior and illness, stop the transmission of these patterns to future generations, and reconnect with your true self and unique creative purpose in life. By understanding your family tree and your place in it, you open your ability to heal the ancient struggle between the repetitive forces of the past and the creative forces of the future.
Debolsillo, 9786073134828, 704pp.
Publication Date: November 24, 2015
About the Author
Moebius, seudónimo de Jean Giraud (1938-2012), ha sido uno de los autores más importantes de la historia del cómic. Tanto en su Francia natal como en el resto del mundo, sus creaciones han marcado a generaciones enteras de lectores, y su registro es tan amplio que va desde el western hasta la ciencia-ficción, pasando por la ilustración, los diseños para películas y otras obras de carácter más personal e íntimo. Trabajó al lado de grandes escritores como Alejandro Jodorowsky y Jean-Michel Charlier para crear sagas tan exitosas y memorables como «El Incal» y «Blueberry». Paralelamente a su trabajo como historietista, Moebius participó en el diseño de producción de películas tan célebres como Alien (1979) o Tron (1982). Siempre inquieto, una vez alcanzada cada cumbre siguió avanzando, dispuesto continuamente a explorar nuevos territorios y a abrir camino a las generaciones venideras.
or
Not Currently Available for Direct Purchase