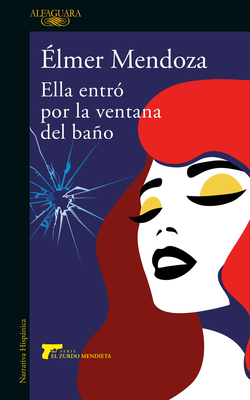 Ella entró por la ventana del baño / She Came In through the Bathroom Window
Paperback

* Individual store prices may vary.
Description
«Quizá deba considerar la duda de Hamlet: ser o no ser, es la bronca»

Sebastian Salcido, alias el Siciliano, esta libre después de pasar más de dos décadas en prisión. Es el líder de un despiadado grupo de exmilitares dedicados al narcotráfico. Lejos de suavizarse en la cárcel, ahora busca con ferocidad vengarse del excomandante de la policía que consiguiera arrestarlo. El Zurdo Mendieta deberá atraparlo, pero muy pronto descubrirá que se trata probablemente de uno de los rivales más poderosos y desalmados que ha enfrentado en su carrera de detective.

Por si las cosas no fueran lo suficientemente difíciles, el Zurdo tiene una misión paralela: encontrar al antiguo amor de un empresario moribundo. Ricardo Favela, de ochenta y seis años, está en el hospital y las médicos le clan una semana de vida. Su áltimo deseo es volver a ver a la  mujer  con  quien vivió un intenso amorío hace veintidós años. Pero ni siquiera sabe su nombre.

Samantha Valdés,  jefa del cartel del Pacífico y amiga del Zurdo, decide ayudarlo porque sabe de quién se trata. El Siciliano se ha convertido en una amenaza implacable. ¿Qué resultará de esta alianza contra un enemigo común? El Zurdo Mendieta está en una carrera contra ese reloj infalible que es la muerte, a la que ahora verá de frente.  ¿Hallará  al viejo amorío de Favela? Quizás usted tenga que encontrar la última pista.

ENGLISH DESCRIPTION

"Perhaps I should consider Hamlet's query: to be or not to be, that is the question.

"Sebastian Salcido, alias the Sicilian, is free after spending more than twenty years in prison. He is the leader of a ruthless group of ex-military now dedicated to drug trafficking. Far from gaining any type of remorse in prison, he now fiercely seeks revenge on the former police chief who managed to get him arrested. Lefty Mendieta is in charge of catching him this time, but he will soon discover that the Sicilian is probably one of the most powerful and heartless rivals he has faced in his entire detective career.

As if things weren't difficult enough, Lefty has a parallel assignment: to find an old love interest of a dying businessman. Ricardo Favela, eighty-six years old, whose last wish is to see the woman with whom he had an intense love affair twenty-two years ago. But he doesn't even know her name.

The Sicilian has become a relentless threat. Lefty Mendieta is in a race against that unfailing clock that is death, which he will soon face head on. Will he manage to find Favela's old love affair? You may be the one to find the last clue.
Alfaguara, 9786073195423, 272pp.
Publication Date: June 22, 2021
About the Author
Élmer Mendoza (Culiacán, México, 1949) es catedrático de literatura en la Universidad Autónoma de Sinaloa, miembro correspondiente de la Academia Mexicana de la Lengua y del Colegio de Sinaloa. Pertenece al Sistema Nacional de Creadores de Arte. Comenzó su carrera literaria en 1978, y en 1999, Un asesino solitario, su primera novela, de inmediato lo situó, a juicio del crítico mexicano Federico Campbell, como «el primer narrador que recoge con acierto el efecto de la cultura del narcotráfico en nuestro país». Con El amante de Janis Joplin obtuvo el XVII Premio Nacional de Literatura José Fuentes Mares y con Efecto Tequila (2005) fue finalista del Premio Dashiell Hammert. En 2006 apareció su cuarta novela, Cóbraselo caro, y en 2008 Balas de plata fue merecedora del III Premio Tusquets Editores de Novela, que lo consagró como escritor de primera fila en el panorama de la novela hispánica. Después de La prueba del ácido (2010) y Nombre de perro (2012), ambas protagonizadas por el detective Edgar el Zurdo Mendieta, Besar al detective continúa esta saga. Élmer Mendoza vuelve a retratar aquí una época y un país de la mano del singular detective que ha traspasado fronteras y es conocido en diez idiomas.