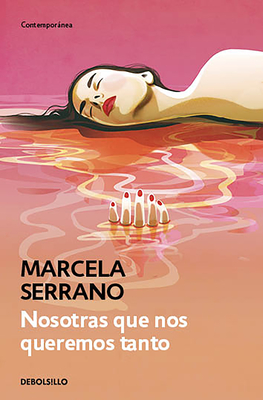 Nosotras que nos queremos tanto / We That Love Each Other So Much
Paperback

* Individual store prices may vary.
Description
La obra de Serrano está repleta de descripciones fantasmagóricas y del exuberante lirismo que distinguió las obras de Carlos Fuentes e Isabel Allende.  - Publisher's Weekly

Cuatro mujeres chilenas, a las puertas de la madurez y a orillas de un lago, dan curso sin inhibiciones al relato apasionado de sus historias personales. 

Vidas marcadas a fuego por la experiencia socialista durante el gobierno de Salvador Allende y el golpe militar de 1973, pero también por la huella más íntima del amor y del dolor, el desengaño y la compasión. Los hilos de estas biografías están entrelazados con las vidas de otras mujeres - amigas, primas, hermanas -, planteando página a página los dilemas de la sumisión, la infidelidad y el matrimonio, el trabajo y el sexo. 

Apagados el fragor de las utopías y la explosión del feminismo, Marcela Serrano ilumina la relación hombre - mujer desde una óptica femenina inédita y enfrenta sin concesiones los claroscuros de la condición existencial de la mujer.

ENGLISH DESCRIPTION

Serrano's work is full of ghostly descriptions and the exuberant lyricism that set apart the famed works of Carlos Fuentes and Isabel Allende. -Publishers Weekly
 
Four Chilean women, at the gates of maturity and on the shores of a lake, narrate, without any inhibitions, the passionate accounts of their personal stories.
 
Lives marked by their socialist experience during the Salvador Allende government and the military coup of 1973, but also by the most intimate trace of love and pain, disillusion and compassion. The threads of their biographies are intertwined with the lives of other women -friends, cousins, sisters- presenting, page after page, the dilemmas of submission, infidelity and marriage, work and sex.
 
When, a few years before the end of the century - turned off by the clamor of utopias and the explosion of feminism, Marcela Serrano sheds a light on the man-woman relationship from an unprecedented feminine perspective and faces without concessions the chiaroscuro of the existential condition of women.
Debolsillo, 9786073802024, 264pp.
Publication Date: July 20, 2021
About the Author
Marcela Serrano nació en Santiago de Chile. Licenciada en grabado por la Universidad Católica, entre 1976 y 1983 trabajó en diversos ámbitos de las artes visuales, especialmente en instalaciones y acciones artísticas, como el body art. Entre sus novelas, que han sido publicadas con gran éxito en Latinoamérica y Europa, llevadas al cine y traducidas a varios idiomas, se destacan Nosotras que nos queremos tanto (1991) -galardonada en 1994 con el Premio Sor Juana Inés de la Cruz-, Para que no me olvides (1993) -Premio Municipal de Santiago-, Antigua vida mía (1995), El albergue de las mujeres tristes (1997), Nuestra Señora de la Soledad (1999), Lo que está en mi corazón (2001) -finalista del Premio Planeta España-, Hasta siempre, mujercitas (2004), La Llorona (2008), Diez mujeres (2012) y La Novena (2016). También es autora del libro de cuentos Dulce enemiga mía (2013).