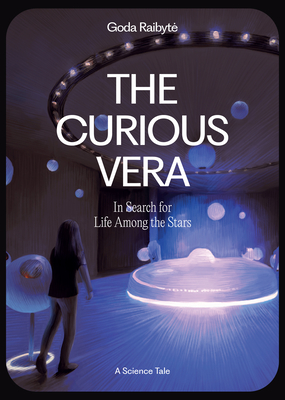 The Curious Vera and the Search for Life Among the Stars
In Search for Life Among the Stars
Hardcover

* Individual store prices may vary.
Description
Join 12 year old Vera as she embarks on a fantastic journey seeking out the greatest scientists of the modern world to understand what life is, and other secrets of the universe.
Curious Vera is a science tale for children who want to explore the secrets of the universe. Vera is just an average kid, with an exceptional curiosity. Based on the personal story and experience of author and self-proclaimed "Space Commander-in-Chief" Goda Raibyte, Curious Vera will inspire curiosity and determination in young readers, and the grown-ups reading along with them, by encouraging them to dive deeper into the exciting world of science and cosmic adventures.
Vera will introduce you to some of the greatest scientists of the modern world who have dedicated their lives to exploring the cosmos. Discover their scientific and philosophical positions on the exploration of the universe, the search for life among the stars, and their perspective on some of the most intriguing and perplexing questions that science is on a mission to solve.
Two Silences, 9786098232325, 240pp.
Publication Date: March 21, 2023
About the Author
Goda Raibyte is a restless science explorer, journalist and television host, although sometimes, she prefers to be go by Space Commander-in-Chief, Director of the Cosmos, or simply a "sciencer" (a word she invented herself). Inspired by the stories her grandfather used to tell, Raibyte has turned her gaze towards the infinite sky since early childhood and was encouraged to constantly question the world that surrounds us by trying to solve the secrets of the universe. Raibyte is privileged to collaborate with some of the world's most notable scientists, and loves to share her knowledge with others in the hope of encouraging a profound interest in science. Curious Vera draws on research by and conversations with: Charles Elachi (a former NASA JPL Director), Steven Goldbarb (CERN), Egle Cekanaviciute (a neuroscientist for NASA AMES Research Center) and Pete Warden (a former director of NASA Ames Research Center and current Executive Director ofBreakthrough Starshot), Paolo Ferri (former head of European Space Agency mission Operations), Jill Tarter (Chair Emeritus for SETI Research Center), Jonas Zmuidzinas (ex chief technologist at NASA JPL, Director of Caltech Optical Observatories).