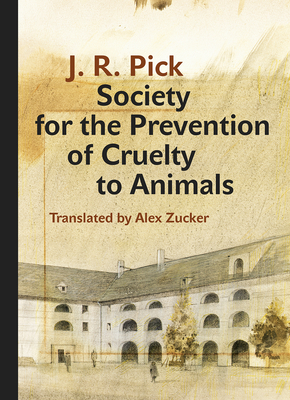 Society for the Prevention of Cruelty to Animals (Hardcover)
A Humorous – Insofar as That Is Possible – Novella from the Ghetto (Modern Czech Classics)
Karolinum Press, Charles University, 9788024636993, 212pp.
Publication Date: September 15, 2018
* Individual store prices may vary.
Description
Compassion, levity, and laughter can be found in the darkest of places—and even in the smallest of creatures. Set in 1943 Nazi-occupied Czechoslovakia, J. R. Pick's novella Society for the Prevention of Cruelty to Animals tells the story of Tony, a thirteen-year-old boy who is deported from Prague to the infamous Terezín ghetto for Jews—the horrific, overcrowded concentration camp where one in four prisoners died of starvation or disease, and a way station on the way to Auschwitz. But it is not the atrocities Tony experiences that make his tale remarkable. It is his ability to find comedy in the incomprehensible.

Tony suffers from tuberculosis, and, lying in his hospital bed one day, he decides to set up an animal welfare organization. Even though no animals are permitted in the camp, he is determined to find just one creature he can care for and protect—and his determination is contagious. A group of older boys, including Tony's best friend, Ernie, aid him in his quest. Soon they're joined by Tony's mother—and her coterie of boyfriends. Eventually, they find Tony his pet: a mouse, which he names and carefully guards in a box hidden beneath his bed. But in the fall of 1944, the transports to Auschwitz begin.

As moving as it is irreverent, Pick's novella draws on the two years he spent imprisoned in Terezín in his late teens. With cutting black humor, he shines a light on both the absurdities and injustices of the Nazi-run Jewish ghetto, using his literary artistry to portray in stunning shorthand an experience of the Holocaust that pure histories could never convey.
About the Author
J. R. Pick (1925–83) was born, lived, and died in Prague. He published nine books during his lifetime and was best known for his plays, satirical sketches, poems, and epigrams.
Alex Zucker has translated novels by Czech authors Petra Hulová, Jáchym Topol, Magdaléna Platzová, Tomáš Zmeškal, Josef Jedlicka, Heda Margolius Kovály, Patrik Ouredník, and Miloslava Holubová. His translation of Topol's The Devil's Workshop received the English PEN Award for Writing in Translation. He lives in Brooklyn, NY.
Praise For Society for the Prevention of Cruelty to Animals: A Humorous – Insofar as That Is Possible – Novella from the Ghetto (Modern Czech Classics)…
"To write a novel that makes you laugh is a great skill; to write a novel that takes place in a ghetto and still makes you laugh is a true feat. Pick's Society for the Prevention of Cruelty to Animals does that and more. On the one hand, it is a paean to the human character, which fights for survival and dignity in the face of certain death. On the other, it is the tender and surprisingly funny story of one boy in extraordinary circumstances. . . . Absurdity and black humor are the very tools of survival, a way through the nightmare. This powerful and moving book helps us make peace with, if not sense of, the unthinkable."
— A. M. Bakalar
"In situations of deepest despair, most brutal and inhumane treatment, Pick derives his strength for humor from an acknowledgement of absurdity. This makes the book virtually timeless."