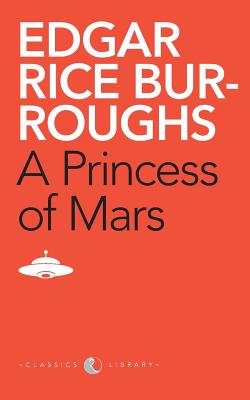 A Princess of Mars (Modern Library Classics) (Paperback)
Rupa Publications India, 9788129123794, 208pp.
Publication Date: April 12, 2012
Other Editions of This Title:
Paperback, Icelandic (12/6/2018)
Paperback (7/30/2008)
Paperback (4/12/2019)
Paperback, Bosnian (11/26/2018)
Paperback (8/12/2019)
Paperback (5/16/2018)
Paperback (8/24/2007)
Paperback (12/7/2011)
Paperback (3/18/2017)
Paperback (9/21/2017)
Paperback (7/3/2003)
Paperback (9/1/2004)
Paperback (8/14/2019)
Paperback, Large Print (5/2/2006)
Paperback (8/11/2018)
Paperback (9/7/2018)
Paperback (6/22/2012)
* Individual store prices may vary.
Description
In the spring of 1866, John Carter, a former Confederate captain prospecting for gold in the Arizona hills, slips into a cave and is overcome by mysterious vapors. He awakes to find himself naked, alone, and forty-eight million miles from Earth-a castaway on the dying planet Mars. Taken prisoner by the Tharks, a fierce nomadic tribe of sixlimbed, olive-green giants, he wins respect as a cunning and able warrior, who by grace of Mars's weak gravity possesses the agility of a superman. He also wins the heart of fellow-prisoner Dejah Thoris, the alluring, red-skinned Princess of Helium, whose people he swears to defend against their grasping and ancient enemy, the city-state of Zodanga.
About the Author
Ray Bradbury is the renowned author of numerous novels, plays, and short stories, including "The Martian Chronicles, Fahrenheit 451, Dandelion Wine," and the screenplay for John Huston's 1956 film "Moby Dick." He lives in Los Angeles with one wife, three cats, four daughters, and eight grandchildren.