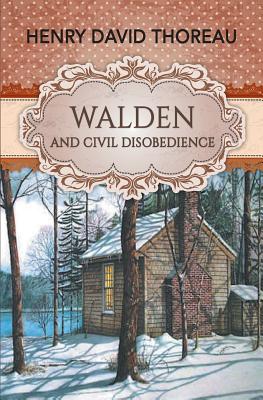 Walden and Civil Disobedience
Paperback

* Individual store prices may vary.
Other Editions of This Title:
Paperback (8/23/2014)
Paperback (12/7/2011)
Paperback (5/27/2018)
Paperback (8/9/1854)
Paperback (2/1/2016)
Paperback (11/14/2020)
Paperback (8/25/1983)
Paperback (9/27/2020)
Mass Market (7/3/2012)
Paperback (5/1/2014)
Paperback (8/26/2014)
Hardcover (9/20/2004)
Paperback (1/1/2005)
Paperback (4/27/2000)
Description
Walden is a book written by Henry David Thoreau, a reflection upon simple living in nature. The work is part personal declaration of independence, social experiment, voyage of spiritual discovery, satire, and manual for self-reliance. By immersing himself in nature, Thoreau hoped to gain a more objective understanding of society through personal introspection. Simple living and self-sufficiency were Thoreau's other goals, and the whole project was inspired by transcendentalist philosophy. Civil Disobedience is thought to have originated after Thoreau spent a night in jail for refusing to pay taxes to a government with whose policies he did not agree. Assigning greater importance to the conscience of the individual than the governing law, Civil Disobedience is an internationally admired work that is known to have influenced writer Leo Tolstoy and political activist Mahatma Gandhi, and many members of the American Civil Rights Movement. Now available together in one chic and affordable edition as part of the Word Cloud Classics series, Walden and Civil Disobedience makes an attractive addition to any library. ABOUT THE AUTHOR: Henry David Thoreau was an American author, poet, philosopher, polymath, abolitionist, naturalist, tax resister, development critic, surveyor, historian, and leading transcendentalist. He is best known for his book Walden, a reflection upon simple living in natural surroundings, and his essay Resistance to Civil Government, an argument for disobedience to an unjust state. Thoreau's books, articles, essays, journals, and poetry total over 20 volumes. Among his lasting contributions are his writings on natural history and philosophy, where he anticipated the methods and findings of ecology and environmental history, two sources of modern-day environmentalism. His literary style interweaves close natural observation, personal experience, pointed rhetoric, symbolic meanings, and historical lore, while displaying a poetic sensibility, philosophical austerity, and 'Yankee' love of practical detail. He was also deeply interested in the idea of survival in the face of hostile elements, historical change, and natural decay; at the same time he advocated abandoning waste and illusion in order to discover life's true essential needs.
General Press, 9788180320507, 272pp.
Publication Date: January 1, 2017