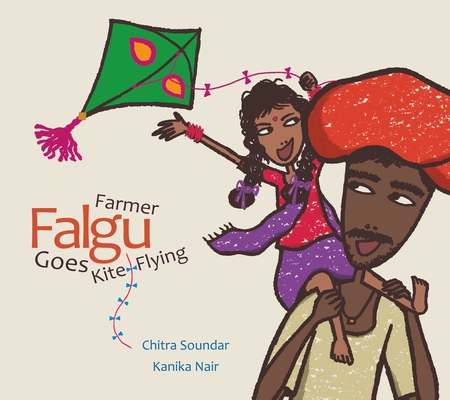 Farmer Falgu Goes Kite Flying
Farmer Falgu Series
Hardcover

* Individual store prices may vary.
Description
Farmer Falgu's trips never go smoothly. In the fourth book of the popular series, he is on his way to the annual kite-flying festival with his daughter, Eila.
But.... Whoosh She loses her kite to the strong wind. Will our clever Farmer Falgu come up with a solution to make his daughter happy? Chitra Soundar's beautiful tale is complemented by Kanika Nair's colorful illustrations that bring alive the kite flying festival of Rajasthan.
Karadi Tales Picturebooks, 9788181903860, 32pp.
Publication Date: April 2, 2019
About the Author
Chitra Soundar was born in Chennai, resides in London and lives in imaginary worlds weaved out of stories. She has written over 20 books for children aged 3 to 10 years old. Chitra also loves to retell folktales, legends and ancient tales from the Indian sub-continent. While she dabbles in chapter books, her first love is picture books. Kanika Nair has always had a passion for illustration. After receiving a bachelor's degree in Communication Design from Pearl Academy of Fashion, New Delhi, she began working as a freelance illustrator, writer and designer of children's books. She was born in Jaipur and resides in Tennessee.