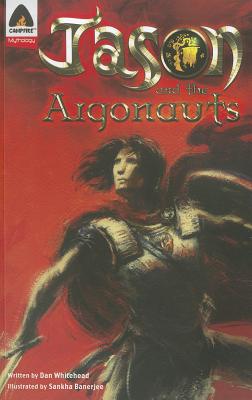 Jason and the Argonauts (Paperback)
Campfire, 9788190751520, 98pp.
Publication Date: January 17, 2012
* Individual store prices may vary.
or
Not Currently Available for Direct Purchase
Description
Jason and the Argonauts is a visually and emotionally captivating graphic novel that depicts the adventures of the famous Greek mythical hero Jason. Jason is sent by King Pelias to find the magical Golden Fleece after the King hears about it from an oracle. Jason accepts the mission and hires fifty heroes including Hercules, Peleus, and Laertes, and commissions Argos to build a large ship. During his voyage to acquire the fleece, Jason and his crew of valiant Argonauts brave danger, magic, and unusual and enchanting beings along the way.
About the Author
Dan Whitehead has almost twenty years of experience writing for and about the entertainment industry. He has previously worked as a videogame consultant for the Guinness Book of World Records, and currently does freelance reviews of games for Eurogamer Ltd. He has also published Nevermore, a graphic novel adaptation of short stories by Edgar Alan Poe.
Praise For Jason and the Argonauts…
"Maybe life is about the journey and not about the destination. That is the moral put forth in Jason and the Argonauts . . . The thing that sets Jason apart from so many other Greek heroes is that he is not a demi-god, or a child born of a god and a human. Jason is fully man, yet he manages to rally some of Greece's greatest heroes to his side (including the mighty Hercules/Heracles) for a quest that is set up to be a suicide mission at best. Jason is at times foolish and at others he is extremely clever (like when he has to outsmart some indestructible zombies- yeah, it's really in the book!). The story moves at a good pace, and loose ends tie up nicely making it feel complete. . . . an enjoyable read and goes along well with (Campfire's) Labors of Heracles graphic novel." -- John Tompkins, Children's Librarian/Graphic Novel Specialist
Advertisement