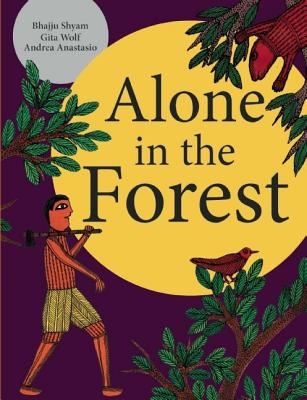 Alone in the Forest (Hardcover)
Tara Books, 9788192317151, 40pp.
Publication Date: September 10, 2013
* Individual store prices may vary.
or
Not Currently Available for Direct Purchase
Description
"The terrifying experience of being alone in the woods is rendered through the eyes of a young Indian boy. . . A familiar story arc conveyed through traditional art captivates with its freshness and originality." - Starred Review, Kirkus Reviews
"Shyam's stylized, boldly outlined forms brim with energy... A simple, satisfying story, much enriched by its cultural grounding and handsome art." - Horn Book Magazine
"This exquisite piece of storytelling speaks both to our crippling fear of the unfamiliar and our ability to transcend it and emerge somehow enriched by that experience." - Brain Pickings
One day Musa sets off from his village to collect firewood. It is the first time he has ventured out alone. Suddenly he hears a loud noise and becomes very afraid. Was the sound a wild boar? A whole herd of wild boars? Or something even worse?
Typography, book design, contemporary tribal artwork, and narrative merge in this powerful yet sensitive visual story for children about fear. Artwork by the talented Bhajju Shyam, the celebrated Gond folk artist from India, whose previous books include The Night Life of Trees and That's How I See Things.
US Grade Level Equivalent: 1, US Guided Reading Level: I

About the Author
Gita Wolf is a highly original and creative voice in contemporary Indian publishing, and the founder of Tara Books. She is known for her interest in exploring and experimenting with the form of the book. Gita has written over twenty books for children and adults, many of which have been translated into multiple languages and recognized internationally. Andrea Anastasio is an artist and designer who was born in Rome in 1961. He studied Philosophy, Asian studies, and Street Theatre, before going on to start a very successful design practice.Andrea s connection to India is a long one, going back to 1991 when he began researching rural architecture, folk art and religion. He now regularly commutes between India and Italy. He is currently working on several new projects with Tara Books. Bhajju Shyam is widely accepted as the finest living Gond tribal artist in India. Bhajju s intricate and colorful work is well known throughout India and has been exhibited in the U.S., U.K., Germany, Holland and Russia. Alone in the Forest is Bhajju s seventh book with Tara Books, and his fourth as a solo artist. From the walls of his tribal village home to international acclaim, Bhajju s has been an incredible creative journey."
Advertisement