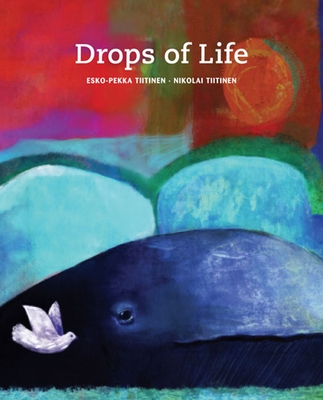 Drops of Life (Hardcover)
Cuento de Luz SL, 9788415241317, 24pp.
Publication Date: April 1, 2012
Description
An adaptation of Esko-Pekka Tiitinen's internationally known children's play, the story of endangered species from all over the world coming together to save the planet instills in children the importance of being environmentally conscious. An elderly owl and a whale help a dove make the long journey home to Africa, but once they arrive, they find that a desert has taken over the once-lush forest. With the cooperation of other animals, a human, the sun, the water, and a favorable wind, they can sow the seeds of life again. This beautifully illustrated fable deals with many themes, including solidarity, respect for nature, overcoming obstacles by helping one another, and the benefits of teamwork.
About the Author
Esko-Pekka Tiitinen was born in Suonenjoki, Finland, acclaimed and award-winning author and artist Tiitinen's talents are renowned within several professional fields. He has an active career as a writer and director of theater, scriptwriter, composer, songwriter and dramatist. He has written more than twenty books, several plays, radio plays, opera librettos, and TV scripts, and he has shown his work in Finland and beyond. Nikolai Tiitinen is an award-winning illustrator from Finland.
Praise For Drops of Life…
"Realistically rendered animals are foregrounded, as on a stage, while Rothko-like backgrounds provide an aura of fantasy. The vibrant palette, strong contrast between warm and cool tones and sophisticated layering of colors effectively convey the splendor of nature." —www.KirkusReviews.com

"Tiitinen creates a hopeful atmosphere with soulful animals set against compositions of blazing fire and cool earth tones." —Publishers Weekly (March 19, 2012)

"subtle and soothing"—Milwaukee Journal Sentinel

"A great introduction to the care of the Earth."  —The Daytona Beach News-Journal

"A gentle, thoughtful tale of working together and of the miracles of nature, Drops of Life is also gorgeously decorated with sweeping, dramatic water-colored pages."  —Lee Littlewood with Creators Syndicate  

"This book teaches children not only an appreciation for nature, but that when we work together we can accomplish much more"—"One Mama's Daily Drama" blog

"[illustrator] Nikolai Tiitinen combines bright and vibrant colors with rich, earthy tones. The blended backgrounds emphasize the fantastic nature of the characters and plot."  —Once Upon a Book blog
Advertisement