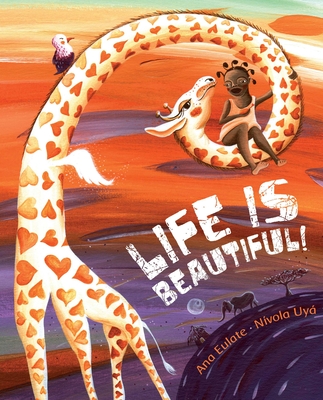 Life Is Beautiful! (Hardcover)
Cuento de Luz SL, 9788415619260, 28pp.
Publication Date: March 1, 2013
* Individual store prices may vary.
or
Not Currently Available for Direct Purchase
Description
Winner of:
Lifestyle Motivation and Inspiration (Gold Medal), 2013 Gelett Burgess Award
Violet is a little Kenyan girl who is visited by a winged giraffe during one particularly hunger-filled night. Wanting to cheer up a hungry and dejected Violet, the giraffe takes the little girl on a flight around her country of Kenya, as well as around the entire African continent. During their journey, Violet is able to see the beauty of her land from a new perspective, but still worries for herself and for her people. She is soon reassured by the giraffe, however, who tells her that help will come if she and her people appeal to the compassion of others from around the world, as well as if they are able to spread laughter among each other.
About the Author
The award-winning author Ana Eulate has enjoyed writing and telling stories since she was a child. After earning her university degree, Ana collaborated with an art magazine, worked at the Ministry of Economy and Finance in Madrid, was appointed Commercial Attache to the Spanish Embassy in Rio de Janeiro, and also worked at the General Directorate for External Relations of the European Commission in Brussels. Nivola Uya is an llustrator with a Bachelor Degree in Environmental Science. Her illustrations have featured in more of a dozen children's picture books published in English, Spanish, Catalan and Swahili. She has won several international awards: First Prize of Illustration of the Institut d'Estudis Balearics, 2007. Winner of the Silver medal to the Best illustrator at the Moonbeam Children Book Awards 2013. First Prize in Living Now Awards, 2014 or Best illustrated Picture Book at the International Latino Book Awards 2015 among others.
Advertisement